I know I'm not the only mom who enters summer with a good plan of keeping my kids busy only to trash it when the days get sweltering and busy! In my opinion, summer is fine without day camps and things like that. All you need to have a great summer is a park and some great snacks!
If any of y'all are in the same boat, I'm sharing here some of my kids favorite snacks that are perfect for summer time. All of these options are gluten-free, with quite a few of them being paleo, keto, AIP, and Whole30, too. They're all healthy, easy, and delicious!
Easy Healthy Summer Snacks
To start off the list, my kids all adore fresh fruit and veggies. So even without the rest of the healthy summer snacks here, if you can find a watermelon, some grapes, cantaloupe, cucumbers, carrots & hummus, whatever, you're gonna be fine! While we are always up for the regulars, maybe try getting a few fruits or veggies you've never had before as a fun treat! Some we've enjoyed are:
dragonfruit
fresh papaya (dried is uh-mazing, too!)
rambutan
guava
kiwi
jackfruit was a no…. but someone might like it!
If you have any other fun fruits to add, let me know in the comments and I'll add them up here.
Easy Avocado Fudgesicles from Raia's Recipes
Popsicles
In my kids' opinions, it's not a good summer without popsicles. And I tend to agree. Here are a few easy healthy options from me and a few other blogger moms!
Honey Peach Popsicles – Need a healthy, delicious snack to cool your kiddos down? Give these paleo, naturally-sweetened, allergy-friendly honey peach posicles a try!
Blackberry Cheesecake Popsicles – Real food blackberry cheesecake popsicles are a summertime must! Made with 6 whole food ingredients, these delicious, homemade, honey sweetened popsicles are so easy to make and would probably count as a dessert as well as a healthy snack!
Creamy Matcha Green Tea Popsicles – has now turned into the perfect summertime treat! What's better than your favorite beverage being frozen into a delectable, creamy, mid-afternoon pick-me-up? Just remember to note that matcha does contain caffeine, so maybe these are more of a mom-treat!
Pineapple Watermelon Popsicles – You'll be blown away at the flavor of these pineapple watermelon popsicles – no added sugar needed and allergen friendly!
Blackberry Cheesecake Popsicles from Recipes to Nourish
Easy Avocado Fudgesicles – Nourishing and fun, these easy avocado fudgesicles are a delicious and healthy treat for kids and adults alike! Full of healthy fats, vitamins, and minerals, they're more than just a dessert!
Rehydrating Electrolyte Popsicles – It's summer and those kids play hard! Restock their electrolytes naturally with refreshing bursts of cool lemon in every bite.
Keto Blueberry Kefir Creamsicles – Easy and packed with probiotics, these keto blueberry kefir creamsicles are the perfect healthy treat for kids and adults alike! With only a few simple ingredients, they're great for primal and traditional diets, and GAPS-friendly, too!
Honey-Sweetened Thyme and Lime Popsicles – These popsicles are a refreshing treat that creates the perfect blend of thyme and lime together with no refined sugar. 
Old Fashioned Cherry Creamsicles – Creamy vanilla goodness paired with sweet, fruity, icy, cherry deliciousness in popsicle form, what's not to like? These delicious popsicles are the perfect Creamsicle® Copycat!
Pineapple Creamsicles – These are a lovely real food treat year round and extra fun when the weather is hot. This 4-ingredient recipe tastes like the nostalgic orange creamsicles many of us grew up with, but more natural and more delicious!
Homemade Strawberry Fruit Snacks from Raia's Recipes
Fruit snacks
I know, fruit snacks are kinda a year-round snack. But regardless of what season it is, it's always a good time to pack healthy protein, vitamins and minerals into your kids via homemade gummies! I love to use Perfect Supplement's grass-fed, kosher gelatin, but I've also used Great Lakes and Azure Standard's is also good. I recommend always using kosher gelatin from grass-fed cattle, if you can get it!
Homemade Grapefruit Gummies – Full of vitamin C and probiotic goodness, these little paleo homemade Grapefruit Gummies are a healthy choice for snack time!
Concord Grape Gummies – These healthy grape gummies are made from sweet concord grapes and grass-fed gelatin. They're a delicious alternative to store-bought fruit snacks!
Mango & Cream Gummies – A gut-healing, refined sugar-free, and an overall healthy treat that your whole family will love. It's a simple Paleo and GAPS candy that takes 20 minutes to make.
3-Ingredient Coconut Orange Gummies – Fun and tasty, these easy 3-ingredient coconut orange gummies are a wonderful way to pack some protein and vitamins into your snack time!
Cherry & Peach Fruit Snacks – Freshly picked and full of flavor! Summer's best fruit turned kid favorite fruit snacks loaded with protein!
Homemade Strawberry Fruit Snacks – Strawberry fruit snacks for the win! These easy, homemade treats are a hit with moms and kids alike. They're 100% paleo, GAPS-friendly, and full of vitamins and minerals!
Bedtime Gummies – With three simple ingredients, these gummies are sweetened with raw honey for extra nutrition and are overall a great Paleo & GAPS treat. And don't let the name fool you, they can be enjoyed any time of day!
Winter Squash "Fruit" Leather – Sweetened lightly, these fruit leathers are Paleo, Vegan, GAPS and AIP friendly. And since everyone loves pumpkin, it's a healthy and popular snack or lunch food.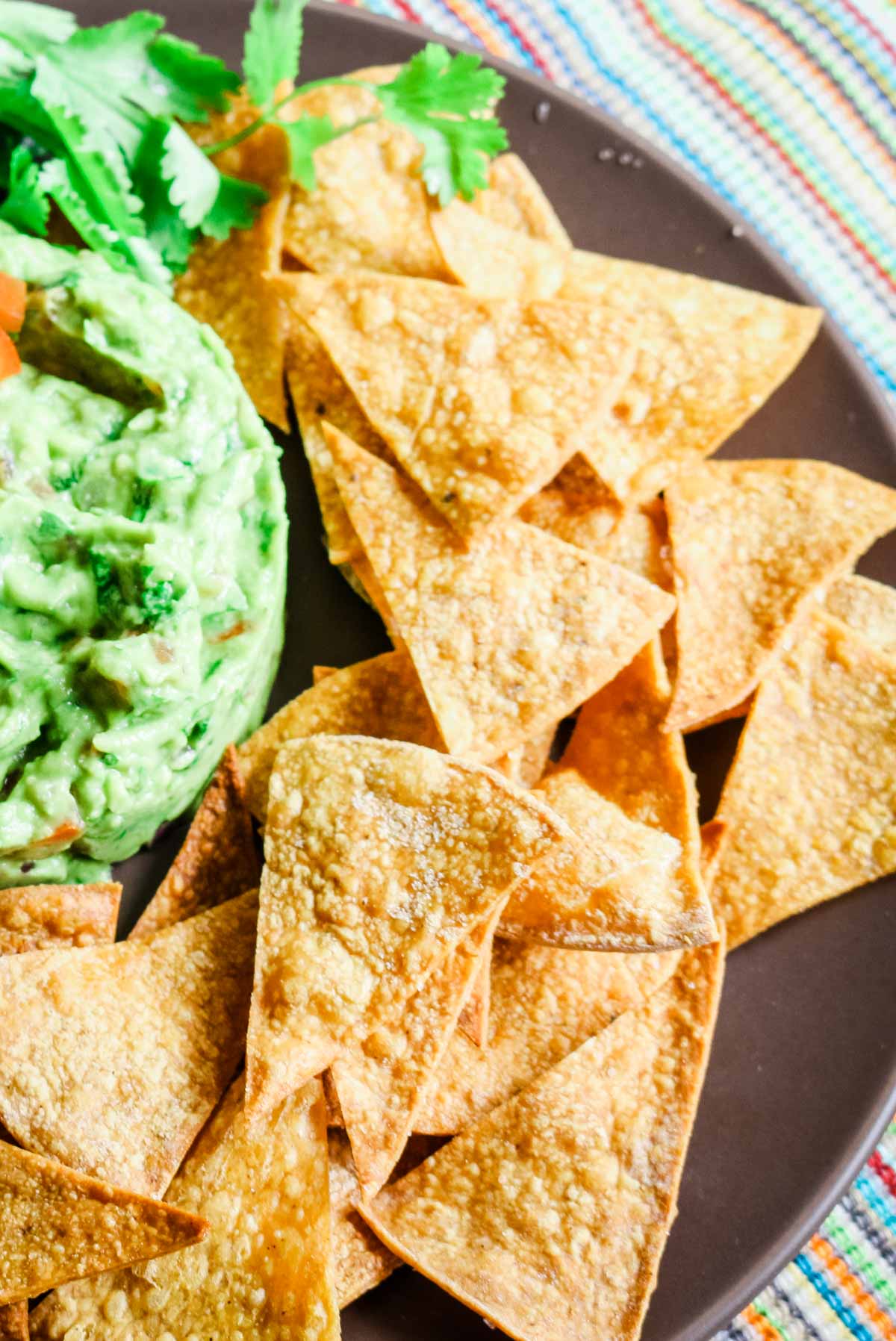 Homemade Tortilla Chips from Prepare & Nourish
Dips, chips & crackers
Move over sweet and fruity snacks, here are some delicious savory options for easy healthy summer snacks!
Homemade Tortilla Chips – Don't feel like running to the store for chips? Find out how to make homemade tortilla chips with only 3 ingredients and 15 minutes.
Gluten-Free Buttermilk Rice Crackers – These are the perfect replacement snack for all you moms with cracker-loving kids. Or even just the moms who love crackers themselves. 😉 With no artificial favors, food colorings, or sweeteners, they're a great healthy option.
Green Plantain Crackers – These are a delicious accompaniment to any snack, meal, appetizer platter or lunchbox. A great option for Paleo, AIP, and Low-FODMAP diets.
Light & Crispy Kale Chips – Kale isn't my favorite, but when I make it into chips I can "suffer" through a plate of them. My son, on the other hand, will eat the whole tray!
Homemade Plantain Chips – Plantains are very similar to bananas but are so much more versatile. They are delicious at any stage of ripeness, being more starchy when they are green, slightly starchy and sweet when yellow, and very sweet when they are black. You really can't lose with these guys!
Gluten-Free Garlic & Herb Sourdough Crackers – Gluten-free garlic and sourdough crackers are a delicious and healthy snack. This easy cracker recipe has instructions for a gluten-free sourdough starter recipe, too!
Homemade Baked Veggie Chips – All you need is fresh veggies, a little olive oil, and some salt and you're ready to enjoy some delicious homemade veggie chips!
Easy Mild 5 Minute Salsa from Raia's Recipes
Real Food Pimento Cheese – Pick up some gluten-free crackers to go with this Southern comfort food. This delicious cheese spread is made with a base grated sharp cheddar cheese, chopped peppers, and a little bit of mayonnaise. Serve it with fresh vegetables, green olives, chips, crackers, spread onto a sandwich, topped on a burger or made into a grilled cheese. 
Easy Beef Liver Pâté – A nutrient-dense appetizer, this homemade pâté recipe starts with browning onions in butter and blending to luscious consistency with cream, coconut aminos, and seasonings.
Jalapeño Cheese Dip – Easy and delicious, this grain-free jalapeño cheese dip is a fun rendition of a classic queso dip. It's perfect for dipping chips or drizzling over roasted veggies.
Sweet Potato Nacho Dip – This fun dip is a perfect alternative for those who don't digest dairy very well. The pureed sweet potato is amazingly creamy and dippable. I assure you, it does not taste like mashed sweet potatoes; it tastes like an addictive nacho-flavored dip that I can't stop scooping with cassava chips.
Chunky Guacamole – Looking for the best guacamole recipe? Look no further! This chunky and authentic guacamole is full of delicious flavors and textures. It's naturally gluten free and is a great dip for Paleo, GAPS or Whole30. 
Easy Mild 5-Minute Salsa – Need a quick and easy salsa? This deliciously mild 5-minute salsa is just like a restaurant and completely paleo, GAPS, and keto-safe!
Strawberry "Pico de Gallo" Salsa – This is an unbelievably wonderful condiment that's tomato-free!, nightshade-free and great for wellness diets that seek to reduce inflammation. Yet this favorite Mexican topping is incredibly gourmet and special.
Keto Ranch Deviled Eggs from Raia's Recipes
Misc. snacks
If your kids aren't in the mood for fruity or cold, here are a few miscellaneous easy healthy summer snacks to try!
Sweet + Spicy Stuffed Bacon Wrapped Dates – Crazy good and so easy to make! These delicious small bites are packed with creamy goodness, spicy jalapeño slices, sweet apricot jam, stuffed into chewy caramel-like Medjool dates and wrapped in salty, crispy bacon.
Homemade Honey-Roasted Peanuts – Love honey roasted peanuts, but not the unhealthy ingredients in the store-bought ones? These easy, real food, homemade honey roasted peanuts are sure to be a sweet hit.
Healthy Rice Cake Topping Ideas – Crispy puffed organic brown rice cakes are the perfect portable gluten free snack. Transform these delicious and healthy rice cakes with beautiful layers of flavor and different textures for a heavenly meal.
Chocolate Chip Cookie Fruit & Nut Bar – Comparable to Larabar, all you need is 5 minutes to whip up these delicious fruit and nut bars. No cooking, just major money saving!
Paleo Kind Bars – These are a homemade healthy trail mix-style "granola" bar you can tailor to your diet. Nutrient-dense with a yummy goo that holds them together, this nut & seed bar copies a store-bought favorite, but is much better — and healthier.
Fruit Kabobs – Need a healthy treat to feed your kiddos or take to your next picnic/potluck? Try these Kid-Friendly Fruit Kabobs!
Homemade Honey Roasted Peanuts from Raia's Recipes
Keto Ranch Deviled Eggs – Easy and perfect for primal and GAPS Diets, these keto ranch deviled eggs made in the Instant Pot are a delicious appetizer or side! Made with a simple, homemade ranch mix – no dressings or packets required!
Savory Spiced Mixed Nuts – If you're in the mood for a crunchy, flavorful snack, then you are going to love this healthy snack. It's so easy to make and the buttery herb flavor is perfect on pretty much any nut or seed you want to use. You can enjoy these spiced mixed nuts any time of day or even use them on top of salads.
Easy Deviled Eggs – This classic appetizer comes with only 4 ingredients but big flavors. Easy Deviled Eggs are great for all kinds of gatherings or even a simple snack.
Crispy Salted Almonds – Nuts can be hard to digest, so soaking and dehydrating to make them "crispy" is a perfect snack option.
Honey Apple Charoset – No matter the time of year, this easy Passover-inspired fruit salad is an easy and delicious paleo treat that your whole family is sure to enjoy!
Copycat Keto Kit Kat Bars – Once you try these copycat keto Kit Kat bars, they will quickly become a favorite go-to treat. Perfect for a keto diet, these chocolate bars are decadent with vanilla, chocolate, and cream cheese. Get ready to indulge your sweet tooth!
Blueberry Elderberry Water Kefir from Raia's Recipes
Fun drinks
My kids are all about the fancy fun drinks. Not only in summer, but also any time of the year. Of course, in the summer we get the obligatory smoothies, but water kefirs, sprizters, and homemade juices also work for easy healthy summer snacks!
Easy Homemade Apple Juice – No more buying nutritionally worthless apple juice from the store, this homemade apple juice in the blender is easy peasy and packed with goodness!
Homemade Kombucha – Learn how to make kombucha at home (and why you should), plus my favorite way to use it… a delicious and nourishing kombucha float!
Easy Homemade Limeade – Made with your sweetener of choice: honey, maple syrup, agave nectar, or for Keto, low carb sweetener. Enjoy this incredibly festive, tempting and refreshing treat during hot weather and for special gatherings.
Blueberry Elderberry Water Kefir – Refreshing and packed with vitamins, minerals, and antioxidants, this blueberry elderberry water kefir is a delicious drink! Naturally paleo and gluten-free, and safe for vegan and full GAPS diets, too!
Honey Spice Lassi – Tart, refreshing and nutritious, this healthful drink from India can be made in your home kitchen in just 5 minutes — perfect alongside meals or as a healthy snack.
Honeydew Melon Agua Fresca – This healthy, hydrating drink is so refreshing! It's easy to make in the blender in minutes and naturally sweetened – no sugar in this real food drink!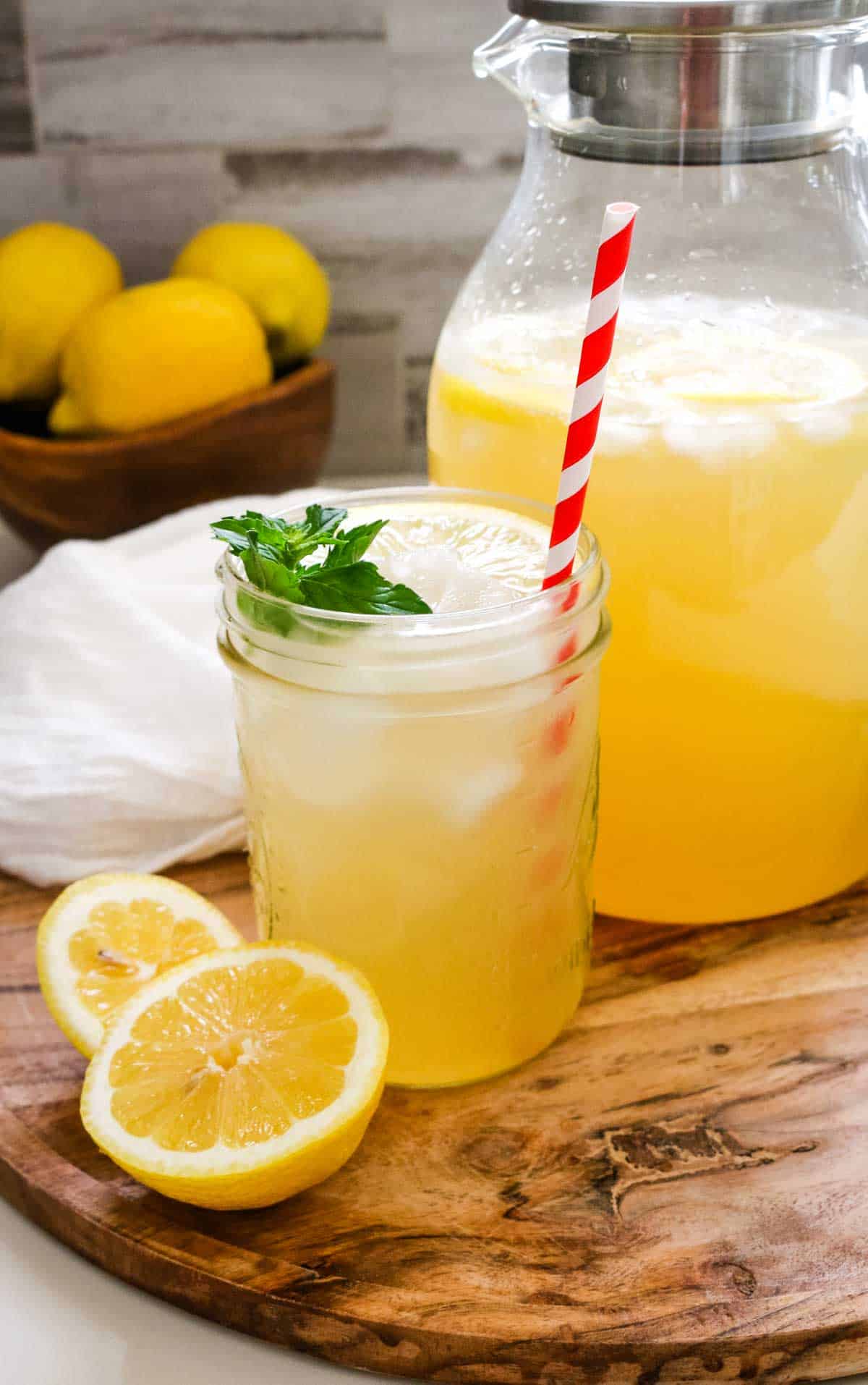 Honey Lemonade from Prepare & Nourish
Honey Lemonade – This delicious recipe is a much healthier version of the age-old summertime favorite with only 2 real food ingredients and a few minutes of hands on time.
Southern Fresh Peach Sweet Tea – This easy, made from scratch, refreshing, is just like iced southern peach sweet tea, but made healthier with no sugar and honey sweetened instead. It's made with fresh peaches and real raspberry leaf tea, making it naturally caffeine free and perfect for the whole family on a hot day! 
Copycat Starbucks Golden Drink – If you were a fan of the Starbucks Golden Drink, then you are going to love this copycat recipe! It's super easy to make and very refreshing. Whip up a batch of this copycat Starbucks golden drink any time you want to treat yourself!
Honey Sweetened Orange Julius – Memory lane, here we come. This drink was a summer favorite of mine as a kid and now my kids love it too! Packed with vitamins and minerals, you'll love this healthy, delicious twist on the classic drink.
Real Food Watermelon Milkshake – Simply sweet and creamy, this luscious, 5-ingredient, watermelon milkshake is the perfect, refreshing treat on a hot summer day. 
Frozen Hot Chocolate – What a super fun treat on a hot summer day! Icy cold, chocolaty,  creamy goodness mixed with healthy, whole food ingredients, topped with rich chocolate fudge sauce and homemade marshmallows is sure to please. 
Strawberry-Basil Switchel – This fun summer drink will have your friends and family lining up to try some, and then hoping you have more for second helpings! It's an electrolyte beverage that's delicious and beautiful too!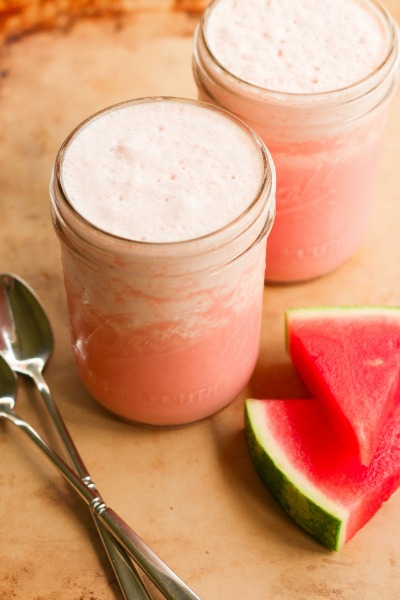 Watermelon Milkshake from Recipes to Nourish
2-Ingredient Hibiscus Punch – Do your kids enjoy fruit punch but you cringe at the additives and food coloring agents?  This is simple enough to make with under 10 minutes from start to finish (not counting the brewing time).
Fermented Strawberry Soda – The perfect summer drink for those fresh, ripe strawberries! This fermented strawberry soda is crisp & bubbly, strawberry sweet, and filled with nourishing, gut friendly probiotics!
Homemade Strawberry Milk – Full of vitamins, minerals, antioxidants, and of course deliciousness, this easy homemade dairy-free strawberry milk is a treat that's perfect for the summer.
Mixed Berry Switchel – When you're needing a cold refreshing drink this summer reach for this easy, anti-inflammatory mixed berry switchel! It's paleo, GAPS-friendly, and refined sugar-free
Homemade Mango Soda – Need a fresh, tasty drink to go along with your summer plans? This easy, homemade mango soda uses an ingredient you'll never guess!
Strawberry Cucumber Lemon Water – If you're struggling to get your kids to drink water, change it up on them with this hydrating, flavorful, infused water. It's perfect for sipping on all day plus it's sugar-free, low carb, Keto and Whole30® friendly. 
Raspberry Beet Kvass – Perfect for packing in nutrition, this kvass is easy to make and full of probiotics. Suitable for most real-food, ancestral diets, beet kvass is naturally gluten-free, grain-free, Paleo, GAPS, AIP, Whole30 and even Keto & Low Carb.
Copycat Wendy's Frosty Smoothie Bowl from Raia's Recipes
Nice creams & smoothie bowls
Chocolate Avocado Nice Cream – Packed with nutrients and delicious deep chocolate flavor, this paleo and GAPS-friendly chocolate avocado nice cream is a perfect treat for warm weather! You'll never know avocados are the key ingredient!
Pomegranate Coffee Hibiscus Smoothie Bowl – This smoothie bowl combines the amazing flavors of coffee, hibiscus & berries with granola and chocolate. My favorite smoothie bowl ever! Paleo with added collagen protein for a well-rounded snack.
Tropical Blender Sorbet – Fruit is all you need for this delicious treat. Well, fruit and a blender…
2-Ingredient Mango Nice Cream – For a delicious and healthy treat, indulge yourself with this mango nice cream. It's grain-free, sugar-free, vegan, paleo/GAPS-friendly, and completely guilt-free!
Copycat Wendy's Frosty Smoothie Bowl – Enjoy dessert for a snack with this easy and nutrient-dense copycat Wendy's frosty smoothie bowl! It's a delicious paleo and low carb chocolate treat.
Mango Berry Nice Cream – Refresh and nourish yourself with this easy and delicious mango berry nice cream! With only a few natural ingredients, this healthy treat fits snugly into paleo, GAPS, and vegan lifestyles!
Mango Berry Nice Cream from Raia's Recipes
Creamy Real Food Watermelon Ice Cream – This easy, 7-ingredient, homemade, watermelon ice cream recipe is a delicious summer treat!
Paleo Chocolate Sweet Potato Smoothie Bowl – The perfect blend of summer and fall, this paleo chocolate sweet potato smoothie bowl is brimming with flavor and healthy enough for a nutritious and delicious breakfast!
Raspberry Swirl Frozen Yogurt – Creamy and smooth, plus sweet and tangy, this healthy frozen yogurt is sure to please. With only 7 simple ingredients, this refreshing vanilla frozen yogurt with a beautiful, naturally sweetened, raspberry coulis is packed with protein and super easy to make.
Cherry Vanilla Sherbet – Anyone else wish cherry season would never end? You can make it last all summer in your freezer with this cherry vanilla sherbet.
Apple Pie Smoothie Bowl – Enjoy apple pie all year 'round with this delicious and healthy gluten-free apple pie smoothie bowl! It's an easy gluten-free breakfast or treat, and can easily be made paleo or even vegan!
Healthy Pineapple Whip – This healthy pineapple whip is so easy to make and crazy good! Super creamy and refreshing, this mouthwatering frozen treat has 3 ingredients, no refined sweeteners and whips up in minutes.
Lemon Jello Cups with Turmeric & Ginger from Raia's Recipes
Puddings & jellos
One of my favorite easy healthy summer snacks is puddings and jellos. I love that I can make them ahead of time, then when my kids are asking for a healthy snack they're ready!
Lemon Jello Cups with Turmeric & Ginger – Treat yourself to a fun and delicious snack with these easy lemon jello cups! With turmeric and ginger, and sweetened with honey, they're full of anti-inflammatory benefits!
Chocolate Chia Pudding – This really is so delicious and rich! It's super creamy, perfectly smooth without little seeds to bite and only takes minutes to make!
Dark Chocolate Peanut Butter Pudding – Enjoy your dessert for breakfast with this decadent and healthy Dark Chocolate Peanut Butter Pudding! It's a great option for primal and GAPS folks, and can easily be made peanut-free for paleo, too.
Easy Banana Pudding – If you're a fan of rich, creamy banana pudding, then this easy recipe is for you! You'll never know that it's gluten, grain, and dairy free and it will transport you back to being a kid. This easy banana pudding is sure to become a family favorite after the first bite!
Chocolate Chia Pudding from Recipes to Nourish
Strawberries & Cream Gelatin Cups – This healthy jello-like sweet treat is made with real strawberries, lightly sweetened with honey, and uses grass-fed gelatin and yogurt for an all around gut-healthy dessert.
Homemade Lemon Jello – Did you know that making your own healthier homemade jello is so easy to do? This naturally sweetened homemade lemon jello is the most fun snack! Kids and adults love it and it only takes 10 minutes to make.
No Bake Lemon Blueberry Mousse – Slightly tart and wonderfully sweet. Made with only 5 simple ingredients, it's naturally primal and paleo-ish using probiotic-rich whole milk kefir and maple syrup for sweetness.