Are you a fan of Mexican-style food? I've got you covered with over 50 gluten-free Tex-Mex recipes to help you spice up your life! From salsas and tortillas to Chipotle copycats, you're sure to find something you'll love! There are even paleo, keto, and vegan options!
Gluten-Free Tex-Mex Recipes.
I haven't always been a fan of Mexican food. After a bad first impression of refried beans (I thought they were brownies at a church potluck as a child), Tex-Mex and I got off to a rocky start. We have a much better relationship now… in case you wondered.
Thankfully, as I grew my tastebuds developed a love for all things sour cream, black bean, and/or chipotle-seasoned. Here are a few of my favorite gluten-free Tex-Mex recipes. All 100% gluten-free, some grain and dairy-free, and all completely delicious.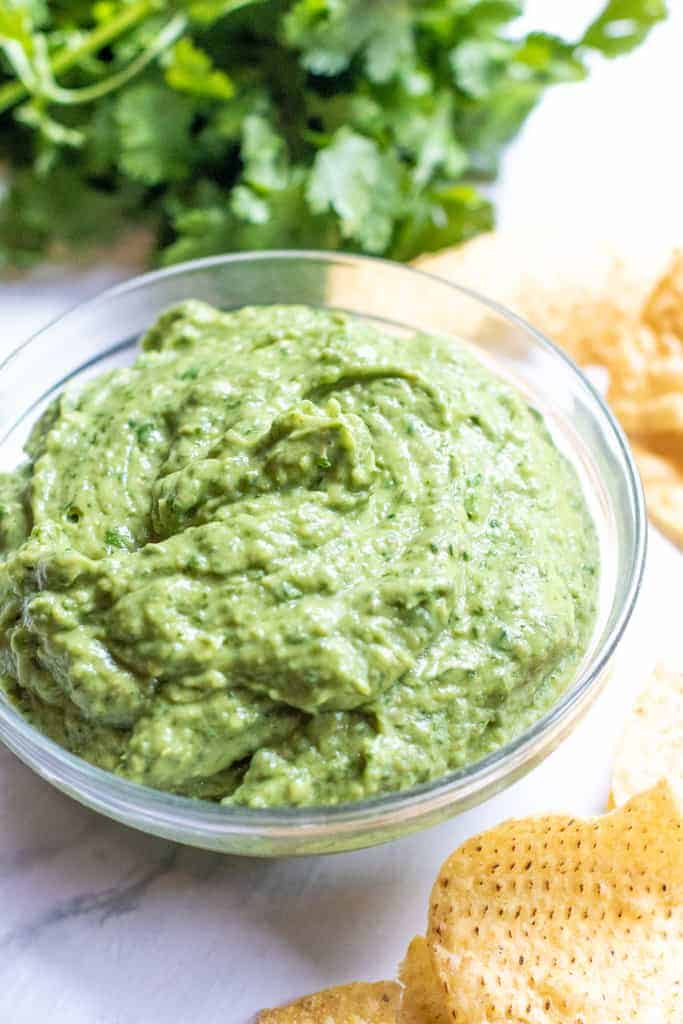 Fresh Spinach Guacamole from Served From Scratch
Condiments.
Broccoli Chimichurri Sauce – Love chimichurri? This easy and delicious paleo, keto, vegan, and Whole30 broccoli chimichurri sauce from Raia's Recipes is a tasty twist on the favorite sauce. It goes great on tacos, steak, or even as a veggie dip or salad dressing!
Lacto-Fermented Roasted Salsa with Avocado – Lacto-fermented roasted salsa from Nourishing Simplicity is bursting with flavor! It's simple to make and will satisfy that craving you have for salsa from your favorite Mexican restaurant. Add avocado for a fun twist!
Restaurant-Style Salsa – Perfectly flavored, chunky yet smooth, this restaurant-style salsa from Prepare & Nourish is made in a blender with just 6 ingredients and under 5 minutes.
Lacto-Fermented Jalapeño Slices – Skip the jarred jalapeño slices and make a healthy batch full of beneficial bacteria and vitamins in no time. These lacto-fermented jalapeño slices from Prepare & Nourish are naturally paleo, GAPS, Whole30, and keto.
Easy Homemade Salsa – This easy homemade salsa recipe from Whole New Mom comes together in a flash and tastes amazing. It's a truly simple salsa recipe, but it's quite possibly the best salsa recipe you'll ever have.
5-Minute Salsa from Raia's Recipes
Dairy-Free Instant Pot Queso – Life's too short to live without queso… but what if you're dairy-free? This Instant Pot queso from All the Nourishing Things will change your life! Packed with cheesy flavor but totally dairy-free, vegan, and yummy! Since its base is veggies, it's also nourishing and budget-friendly!
5-Minute Salsa – Need a quick and easy salsa? This deliciously mild 5-minute salsa from Raia's Recipes is just like a restaurant and completely paleo, GAPS, and keto-safe!
Creamy Nut-Free Vegan Nacho Cheese Sauce – No dairy needed in this creamy nut-free vegan nacho cheese sauce from Strength & Sunshine! Low-fat, gluten-free, paleo, and allergy-free; everyone can enjoy some healthy dipping! A tummy-friendly recipe, made quick & easy in a blender. You'll be using this queso sauce for more than just chips!
Pico de Gallo con Avo – This recipe from Eat Beautiful will quickly take the rank as your all-time favorite pico de gallo recipe! The avocado makes it perfectly sublime.
Fresh Spinach Guacamole – This fresh spinach guacamole from Served From Scratch takes the classic dip and makes it even healthier by adding some fresh spinach while keeping the classic guacamole flavors!
Cherry Tomato Salsa – A sweet, mild and chunky cherry tomato salsa from Food by Jonister! Very easy to make with just 8-ingredients and it can be stored in the refrigerator for up to 2 weeks!
Grain-Free Jalapeño Cheese Dip from Raia's Recipes
Fresh Garlic Blender Salsa – Homemade garlic blender salsa from Healthy Christian Home is so easy to make and tastes 100x better than anything you can get from a jar (or even your favorite Mexican restaurant). In just five minutes, you'll have a salsa recipe that's so fresh and flavorful you'll want to make it over and over!
Roasted Tomatillo Salsa Verde – This super simple roasted tomatillo salsa verde from Belly Rules the Mind is easy, no fuss, no muss because its made in Instant Pot! It tastes JUST like Chipotle tomatillo salsa and is an easy, flavorful, and so delicious with some chips or as a condiment to your burrito bowl. Sure to become everyone's favorite salsa.
Homemade Salsa Verde – Spicy, homemade salsa verde from Food by Jonister! This salsa is made with 10 ingredients, including tomatillos, poblano & jalapeño peppers, corn and more!
Grain-Free Jalapeño Cheese Dip – Easy and delicious, this grain-free jalapeño cheese dip from Raia's Recipes is a fun rendition of a classic queso dip. It's perfect for dipping chips or drizzling over roasted veggies.
Fermented Cilantro-Lime Jalapeños – Preserve summer's harvest of jalapeño peppers and add gut-healthy probiotics to your Mexican-inspired meals with fermented cilantro-lime jalapeños from All the Nourishing Things! These probiotic peppers are totally raw, vegan, paleo, keto, and Whole30, perfect for topping healthy tacos, nachos, fajitas, and more!
Summer Blender Cucumber Salsa
– Fresh, real food summer blender cucumber salsa from
Recipes to Nourish
is seriously delicious! The cucumber is the star in this refreshing salsa and is easily made in the blender with just 7 whole food ingredients. It's low carb, keto, paleo, and Whole30-friendly too!

Chicken Fajitas in the Instant Pot from Raia's Recipes
Main Dishes.
Crispy Pork Carnitas – These crispy pork carnitas (made in the pressure cooker) from Prepare & Nourish makes an easy weeknight meal or healthy party food. It's generously seasoned and broiled to crispy perfection. Paleo, Whole30, GAPS, & Low Carb.
Black Bean Stuffed Sweet Potatoes – These gluten-free and vegetarian black bean stuffed sweet potatoes from Food by Jonister are seasoned with Tex-Mex spices then topped with a cool and creamy cilantro yogurt sauce! Make a big batch because these make for great leftovers as well!
Black Bean Tacos – These healthy and hearty vegetarian black bean tacos from Recipes to Nourish are stellar! They're deeply flavored with hints of sweet orange and chocolate, spicy cumin and jalapeños, and packed with creamy black beans, sweet corn and salty olives.
Chicken Fajitas in the Instant Pot – Prepare to fill your plate and stuff your belly with these delicious paleo and Whole30-friendly chicken fajitas in the Instant Pot from Raia's Recipes! They'll will make you think you were in a Mexican mama's kitchen for lunch! 
Sheet Pan Nachos – These sheet pan nachos from Prepare & Nourish are an easy, 30-minute, crowd-pleasing meal with minimal prep time and little cleanup.
Chipotle Style Burrito Bowl  – Love burritos? Here's everything you need to make a delicious, grain-free Chipotle-style burrito bowl from Raia's Recipes in the comfort of your own kitchen!

Sheet Pan Nachos from Prepare & Nourish
Enchilada Casserole – Grab store-bought gluten-free tortillas, or make your own (recipe included) to make this grain-free enchilada casserole from Eat Beautiful! It can be make in the Instant Pot, crockpot or oven.
Tex-Mex Chorizo Migas – This easy gluten-free migas recipe from Fearless Dining is a hearty breakfast the whole family will love.
Fish Taco Bowl with Mango Salsa – This fish taco bowl with mango salsa from Calm Eats is easy to prepare, quick to cook and versatile. You can use whatever white flaky fish you can find that holds up well in the frying pan.
Mexican Pasta Salad – This gluten-free Mexican pasta salad from Food by Jonister is not only pretty but delicious and filling! It has protein from the beans, a carb to keep you full longer, add at least 3 colors, and a creamy chipotle cashew dressing with a hint of spice!
Pulled Pork Over Mexican Sweet Potato Rice – This pulled pork over Mexican sweet potato rice from the Organic Kitchen can be made in the Instant Pot or Crock Pot. It's tender, juicy, and goes perfectly with chopped romaine, avocado, pico de gallo, or some pickled cabbage. 
Mexican Chicken Salad – This easy Mexican chicken salad from Raising Generation Nourished is abundant with bright, bold flavor, and just 5 minutes of prep time!
Quinoa & Black Bean Tacos from Raia's Recipes
Chile Relleno Casserole – This keto chile relleno casserole from Eat Beautiful takes just 15 minutes to assemble and 45 minutes to bake. This easy authentic tasting Mexican meal is a crowd pleaser and also perfect for Low Carb, Primal (dairy + Paleo) and the GAPS diet.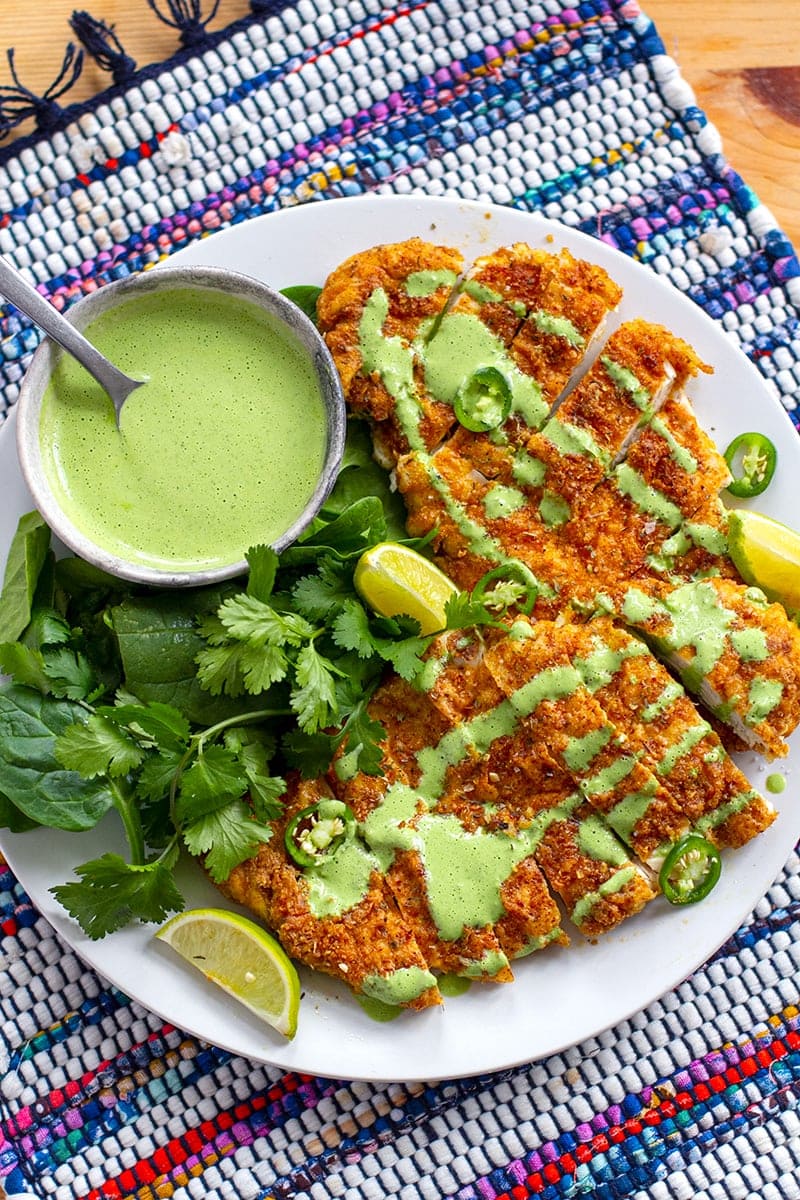 Mexican Chicken Schnitzel from Irena Macri
Grilled Tenderloin Tacos – Tender and delicious grilled tenderloin tacos from Raia's Recipes go great with broccoli chimichurri sauce and piled onto a raw jicama taco shell and topped with cheddar cheese. The perfect gluten-free taco!
Tex-Mex Breakfast Skillet – This Tex-Mex breakfast skillet is a breakfast… or dinner of champions! This meal from Food by Jonister is high in protein, gluten free and very nutritious. Perfect for a weekend brunch.
Verde Chicken & Cheese Enchiladas – These verde chicken and cheese enchiladas from Eat Beautiful are sure to satisfy: high-fat comfort food, perfectly suited for not only the keto diet, but also gluten-free, primal, and GAPS.
Jerk Shrimp & Chicken Tacos – These jerk shrimp and chicken tacos from Calm Eats are an explosion of flavor in your mouth! The flavors marry beautifully, creating some kind of magic.
Quinoa & Black Bean Tacos – These quinoa and black bean tacos from Raia's Recipes are an easy weeknight meal! They're naturally vegan, and can even be grain-free!
Turkey Fajita Meatballs – Tender and flavorful from the onions and bell peppers, these turkey fajita meatballs from Prepare & Nourish are quick and easy to put together for an lazy weeknight meal. Enjoy on a bed of romaine lettuce (or rice!) drizzled with crema fresca and topped with Cotija cheese.
Mexican Shredded Beef – This paleo, keto and Whole30-friendly Tex-Mex shredded beef from Irena Macri is a fantastic meat dish that can be turned into many delicious meals such as naked taco or burrito bowls, salads, wraps or served with a side of steamed or roasted vegetables. It's a great recipe for meal-prep and batch cooking.
Pinto Bean Tamales from Strength & Sunshine
Paleo Fish Tacos – Paleo fish tacos with gluten-free tortillas, stuffed with flaky and juice tempura-inspired fish fillets. These fish tacos from I Heart Umami are loaded with all the best toppings and simple salsa, and they can be ready in less than 30 minutes!
Pinto Bean Tamales – An easy Mexican tamale recipe with a homemade masa dough and spicy pinto bean filling. These gluten-free pinto bean tamales from Strength & Sunshine are vegan and top 8 allergy-free, making them a great meatless weeknight meal the whole family will love!
Low-Carb Hatch Chile Rellenos Casserole – This low carb, gluten free chile rellenos casserole from What A Girl Eats has all the flavor of regular chile rellenos, but without the breading and frying.
Spicy Saucy Meatballs (Albondigas) – These delicious saucy albondigas or spicy meatballs from Irena Macri are made with chipotle chile peppers and braised in delicious, Tex-Mex inspired tomato sauce. These meatballs are paleo and Whole30 friendly and can be served on their own with a side of veggies or salad, over rice or cauliflower rice, or in tacos and burritos. Budget-friendly and good for the freezer.
Black Bean Burrito Bowl – Chipotle's got nothing on this homemade black bean burrito bowl from Food by Jonister! It's made with some basic kitchen pantry staples and is customizable! This recipe is a gluten-free, healthy and balanced lunch or dinner.
Slow Cooker Taco Chicken – The best slow cooker taco chicken recipe perfect for tacos, burritos, even quesadillas! This healthy Mexican shredded chicken from Strength & Sunshine is so easy to throw in the Crock-Pot, it's gluten-free, paleo, and allergy-free! Grab your favorite taco sauce and relax as your weeknight dinner cooks itself to perfection!
Easy Black Bean Sheet Pan Nacho Salad – This black bean sheet pan nacho salad from Simple & Savory is filled with crispy chips, black beans, cheese topped with salad ingredients. It's a quick, easy and nutritious vegetarian meal that can be on your table in less than 30 minutes.
Southwestern-Style Stuffed Peppers – These sweet peppers from Butter for All are stuffed to the brim with grass-fed ground beef, sweet corn, tomatillos, hot peppers, and jack cheese making them a delicious complete meal!
Mexican Chicken Schnitzel – A fusion of two cuisines produces unexpected yet delicious dish such as this Whole30, paleo and gluten-free chicken schnitzel with a Tex-Mex twist. Shallow-fried till crispy and aromatic, these spiced chicken breast schnitzels from Irena Macri are drizzled with zesty coriander, lime and garlic sauce. Yum!
Shrimp & Greens Enchiladas – This recipe for keto shrimp and greens enchiladas is Tex-Mex comfort food with a few super nourishing twists! With a dairy-free jalapeno "cream" sauce, you can savor these enchiladas from All the Nourishing Things if you're paleo without missing out on flavor.
"Cheesy" Beef & Black Bean Soup from All the Nourishing Things
Soups.
Mexican Meatball Soup – This Mexican meatball soup from the Organic Kitchen is gorgeous, hearty, nutritious, paleo, and Whole 30 compliant. Cooked with spices and garnished with herbs it's a flavorful addition to your fall/winter menu plan!
"Cheesy" Beef & Black Bean Soup – This creamy, dairy-free "cheesy" beef and black bean soup from All the Nourishing Things is quick comfort food you can make with ingredients you probably already have. Get ready for a delicious bowl of comfort that's a healthy but inexpensive soup!
Poblano Potato Soup – This poblano potato soup from Raising Generation Nourished is winter comfort food…with a Mexican twist and in a fraction of the time with your Instant Pot!

Cauliflower Mexican Rice from What Great Grandma Ate
Side Dishes.
Paleo Tostones – Easy 3-ingredient paleo tostones from Recipes to Nourish are epic! These crispy, sinfully delicious, twice-fried green plantains are commonly known as Tostones or Patacones in different Latin American countries like Puerto Rico, Cuba, Colombia, Guatemala, Costa Rica and more. They're so easy to make and come together in less than 30 minutes from prep start to finish. 
Mexican Street Corn Salad – This Mexican street corn salad from Served From Scratch turns the classic Mexican street food into a delicious and easy to make side dish!
Tiger Nut Flour Tortillas from Eat Beautiful
Chipotle-Style Cilantro Lime Cauli-Rice – Need grain-free or Whole30? Enjoy Mexican food again with this quick and easy Chipotle-style cilantro lime cauliflower rice from Raia's Recipes.
Paleo Tortillas – Yes, these paleo tortillas  from Calm Eats are 100% vegan. The only ingredients required are cassava flour, coconut flour, water, apple cider vinegar, olive oil and salt.
Cauliflower Mexican Rice – Get a taste of Mexican restaurant at home with this yummy paleo and vegan cauliflower Mexican rice from What Great Grandma Ate. It tastes like the real deal but it's Whole30 and keto-friendly!
Secret Ingredient Paleo Taco Shells – Are you grain-free, but love tacos? You are sure to love these paleo taco shells from Whole New Mom. They're made with just a few simple ingredients and taste amazing!
Paleo Tostones from Recipes to Nourish
Bacon Cheddar Jalapeño Cornbread – Sweet, savory, spicy, this bacon cheddar jalapeño cornbread from Raia's Recipes has it all! It's an easy naturally gluten-free recipe and a fun twist on a southern classic.
Plantain Taco Shells – These paleo and AIP plantain taco shells from Eat Beautiful have only 3 nourishing ingredients: great fat, plantains and sea salt. So yes, they're simple to make, delicious and yummier than corn!
Jalapeño Coconut Paleo Bread with Chipotle Butter – This paleo coconut bread from Irena Macri is amazing! Made with grated carrot and jalapeños for a little spicy kick, this loaf is gluten-free, grain-free and low-carb. While the chipotle butter is optional, you will be missing out if you don't try it spread over a warm slice of this yummy bread.
Spicy Curtido Coleslaw – Whether you're paleo, Whole30, vegan, AIP, or just hungry, this easy spicy curdito coleslaw from Raia's Recipes will be a delicious addition to your meal!
Mexican Cauliflower Rice – Pop, pungent and wholly loaded with authentic flavors, this healthy, high fiber, low carb Mexican cauliflower rice from Whisk Affair will kill your love-hate relationship with cauliflower once and for all.
Grain-Free Mexican Chocolate Cake from Raia's Recipes
Desserts & drinks.
Grain-Free Mexican Chocolate Cake – This easy, grain-free Mexican chocolate cake with cinnamon cream cheese frosting from Raia's Recipes is a decadent primal and real food treat with a decadent blend of sweet and spicy!
Pastel de Elote – A lightened up, gluten-free, vegan, and top allergy-free recipe for 'pastel de elote' from Strength & Sunshine! This traditional sweet Mexican corn cake is moist, dense, with a bread pudding like texture. Baked in a bundt pan, with fresh corn, and topped with a light glaze, this treat will be gone in a flash!
Horchata Ice Cream – Real food horchata ice cream from Recipes to Nourish is so delicious! Inspired by the Mexican agua fresca, this naturally sweetened ice cream is rice milk infused with hints of sweet cinnamon.
Watermelon & Lime Mocktail – You'll love this refreshing watermelon and lime mocktail from Food by Jonister! This drink is made with just 4 ingredients and takes just minutes to make. No alcohol or refined sugar anywhere in sight!
Dark Chocolate Mexican Blender Brownies – Spice up your brownie life with these decadent dark chocolate Mexican blender brownies! Easy, paleo, and only sweetened with honey, they're sure to satisfy your chocolate cravings!
Vegan Horchata from Food by Jonister
Honey-Sweetened Horchata – Thick, creamy, and delicious, this nourishing honey-sweetened horchata from Raia's Recipes is packed full of vitamins, minerals, and prebiotics! It's a sweet, cinnamon-y favorite.
Vegan Horchata – Horchata is a Mexican milk based drink with a cinnamon spice. Cashews add a creamy and slightly sweet hint to this vegan horchata from Food by Jonister.
Mexican Hot Chocolate – This delicious and decadent paleo and vegan Mexican hot chocolate from What Great Grandma Ate is a healthy but indulgent drink to enjoy over the holidays!
Frozen Mexican Hot Chocolate
– Whether it's January or May, if you're a chocolate lover it's never the wrong time to whip of a batch of this delicious paleo and GAPS-friendly frozen Mexican hot chocolate from Raia's Recipes!
Looking for gluten-free Tex-Mex recipes?
If you're a fellow Tex-Mex lover in need of even more delicious, gluten-free Tex-Mex recipes, let me recommend two amazing cookbooks for you. First is Amazing Mexican Favorites in Your Instant Pot by my friend Emily Sunwell-Vidaurri of Recipes to Nourish, and her husband, Rudy Vidaurri. The second is Latin American Paleo Cooking, by Amanda Torres from The Curious Coconut. They are both full of amazing and nutritious recipes that fit mostly into the paleo/primal diets, with some good old fashioned gluten-free thrown is as well. Not that 'gluten-free' has really been along long enough to be considered old fashioned… but anyway.