Looking for healthy gluten-free meals to feed your large family? Look no further! From stews and casseroles, to roasts and stir-fries, you're sure to find something to love in these over 100 delicious options!
Healthy Gluten-Free Meals for Large Families.
As a momma of six crazy kids, finding gluten-free meals that are big enough to feed my whole family can be rather frustrating. I regularly find a delicious recipe and start perusing only to find out that it feeds a family of four. I'm sure I'm not alone in this struggle!
I know, I know, I can totally just double the recipe, but I thought it would be nice to have a list of meals that didn't need to be doubled. So I decided it was time to get together a mighty list of delicious gluten-free meals.
I've gathered together over 100 gluten-free meals here, some of which are paleo, keto, Whole30, and even vegan. So there's something for everyone!

One-Pot Chicken & Rice from Food by Jonister
Stove-Top Dinners
If you don't happen to have a slow cooker or Instant Pot (or maybe your IP is just occupied with making yogurt at the moment), I've got some delicious and healthy gluten-free meals made on the stove top! 
Chicken & Turkey
Asian Turkey Quinoa Meatballs – These Asian turkey quinoa meatballs from Pinch of Wellness are packed with flavor and easy to make! This gluten free meatball pairs great with rice, over noodles or can be eaten alone.
Crispy Orange Chicken – This healthy & delicious crispy orange chicken from Lau's Healthy Life will not disappoint! It is paleo, gluten, grain, & dairy-free!
One-Pot Chicken & Rice – This one-pot chicken and rice from Food by Jonister is pure comfort food! It feeds 6 (or more) people, is full of healthy protein, vegetables and a good source of fiber. This recipe is gluten-free and dairy free.
Sticky Chinese Chicken Thighs – These sticky Chinese chicken thighs from Emma Eats & Explores are made with tamari instead of soy sauce making them gluten free! They are sweet and salty and sticky all at the same time and so easy to cook!

Healthy Egg Roll in a Bowl from Whole New Mom
Beef
Chipotle Carne Asada Marinade & Steak – This chipotle carne asada marinade and steak recipe from Any Reason Life is absolutely mouth watering. If you're looking for a super flavorful recipe for chipotle steak, look no further.
Ground Beef & Cabbage Stir Fry – This ground beef and cabbage stir fry from Hot Pan Kitchen is an easy dinner that happens to be gluten free, paleo, low carb, and Whole30 compliant. Seasoned with curry, the meat cooks with onion and mushrooms, then the cabbage is added to complete this simple meal. 
Ground Beef & Potatoes Skillet – This hearty ground beef and potatoes skillet from Neighborhood Food Blog is loaded with veggies in a savory broth.
Hamburger Helper – This homemade gluten free hamburger helper from Tessa Domestic Diva tastes even better than the original and uses only real food ingredients! In under 30 minutes, you can have a totally gluten free and dairy free meal the whole family will love!
Healthy Egg Roll in a Bowl – This healthy egg roll in a bowl (aka crack slaw) from Whole New Mom has all of the great flavor of Egg Rolls, but it's a sure to please Easy One Pan Meal your family will love!
Porcupine Meatballs with Easy Pan Gravy – Parents and kids alike will enjoy these fun and delicious porcupine meatballs with easy pan gravy. With only a few naturally gluten-free ingredients, they're an allergy-friendly meal the whole family will love!
Scottish Mince & Tatties – Traditional Scottish mince and tatties from Healthy Christian Home is a hearty, easy weeknight dinner! It's also a unique ground beef recipe when you want something a little different.
Swedish Meatballs – Flavor packed Swedish meatballs in a rich, cream gravy – who doesn't want that for dinner? This family-friendly meal from No Sugar, No Flour Recipes is as easy as it is delicious!
Whole30 Butter Chicken – This creamy, rich, flavorful version of butter chicken from Lau's Healthy Life is dairy-free, paleo, Whole-30 approved, & absolutely delicious! Make a big batch & have leftovers prepped for the week, in under 30 minutes!

Easy Red Beans & Rice from A Forked Spoon
Pork
Easy Red Beans & Rice – A faster version of traditional Creole recipe, these hearty red beans and rice from A Forked Spoon is made with smoked sausage, red kidney beans, and vegetables such as onion, celery, and green bell pepper. Filled with the same bold and delicious Cajun spices as traditional red beans and rice, the whole family will love this comforting Louisiana classic.
Pulled Pork Chalupa – Quick and easy pulled pork chalupa from Sweet Pea Lifestyle is a dinner that is ready in under half an hour but tastes like it slow cooked all day long.
Veggie
Cauliflower Tikka Masala – Creamy, spiced cauliflower tikka masala served over rice! Everyone needs to include more vegetables into their diet, so make way for this vegetarian twist on a classic meat-focused dishe! This recipe form Food by Jonister is dairy free, gluten free and 100% plant-based.
Healthy Orange Cacao Black Bean Tacos – These healthy and hearty vegetarian black bean tacos from Recipes to Nourish are stellar! They're deeply flavored with hints of sweet orange and chocolate, spicy cumin and jalapeños, and packed with creamy black beans, sweet corn and salty olives.
Lentil & Quinoa Sloppy Joes – This lentil and quinoa sloppy Joe dish from Class Clay Cooking is a great show cooker meal you can prep before heading to work. Perfect easy, vegan dish for the busy family or meal preppers.
Nourish Bowls – This delicious nourishing dinner from Elke Living is packed with perfectly roasted vegetables, and topped with a mouth watering tahini dressing!
Saag Paneer – This homemade saag paneer with cauliflower rice from Butter for All is full of authentic flavor, uses real food ingredients, and is completely gluten and grain free!
Vegetarian Cassoulet – This vegetarian cassoulet from Real Food Deals is such a hearty vegan dinner recipe. It's flavorful, healthy, and kid-friendly. Best of all, it costs just $.88 per serving.

Gluten-Free Enchiladas from Gluten-Free Palate
Casseroles & Bakes
Nothing says comfort food quite like a steaming hot casserole, fresh from the oven. If that's speaking your language, dig in to these delicious and healthy gluten-free meals baked in the oven!
Chicken
AIP "Chicken & Biscuits" Chicken Pot Pie – My family loves casseroles, and we like to top a classic chicken pot pie with our biscuit dough. This "chicken & biscuits" chicken pot pie recipe from Eat Beautiful also features a lovely gravy, thick and brown and very umami (savory comfort food!). It is old-fashioned, old-world, humble family food.
Cauliflower-Chicken Au Gratin Casserole with Bacon – Everyone loves those creamy casseroles that can be made ahead of time and are super healthy and nourishing too, this cauliflower-chicken au gratin casserole with bacon. It's keto, low-carb, primal, and GAPS diet-friendly. Get cozy with this one-dish comfort food dinner casserole from Eat Beautiful!
Cheesy Crustless Chicken Pot Pie – This cheesy chicken pot pie from Healthy Christian Home is sure to be your family's new favorite chicken pot pie casserole. Potatoes inside and crispy cheese on top ensure you won't miss the crust!
Chicken Bacon Ranch Casserole – This chicken bacon ranch casserole from Joy Filled Eats is a hit with kids and adults. Quick, easy, and so comforting. This is cheesy, bacony, and filling. This Bacon Ranch Chicken Casserole is one of my favorite low carb chicken recipes ever.
Chicken, Broccoli & Rice Casserole – This delicious and healthy dairy-free and gluten-free chicken broccoli rice casserole from Clean Eating Kitchen is the perfect main dish for busy weeknights. Prep it ahead of time and then bake it when you're ready to eat.
Chicken Cordon Bleu Casserole – This chicken cordon bleu casserole from Joy Filled Eats will knock your socks off. It is so much easier than a traditional rolled and breaded cordon bleu and has even more flavor. With chicken, ham, and swiss in a creamy dijon sauce, you won't miss the breading one bit. Since you aren't coating or stuffing the chicken it is quick and easy.
Easy Baked Frozen Chicken Wings – Baking frozen wings is the easiest way to make chicken wings, and in my opinion, it's also the tastiest! These frozen chicken wings with buffalo chicken gravy from Healthy Christian Home are so easy to make: no thawing, no par-boiling, no pre-seasoning.
Easy Chicken Scalloped Potatoes – This easy chicken scalloped potatoes from Prepared & Nourish comes together quickly and easily. With only 5 main ingredients, this bake is delicious and naturally Whole30 compliant.
Gluten-Free Enchiladas – These delicious gluten-free enchiladas from Gluten-Free Palate are a crowd-pleasing recipe that is easy to make and requires minimal ingredients.
Healthy Spinach Artichoke Chicken Casserole – This healthy spinach artichoke chicken casserole from Recipes to Nourish is total comfort food. It's easy to make, packed with protein, brimming with spinach and artichoke hearts and full of flavor.
Keto Chicken Cabbage Casserole – An easy and healthy one-pan meal on a busy weeknight or a delicious side dish for a group. This keto chicken cabbage casserole from Prepare & Nourish smothered in cheesy garlic flavors for a nourishing meal.
Spanish Chicken Stew – A hearty rustic one-dish chicken dinner that is full of the vibrant flavors of the Mediterranean. This healthy, easy to make Spanish chicken stew from Love, Food, Nourish makes the perfect comfort food!
Verde Chicken & Cheese Enchiladas – These keto verde chicken and cheese enchiladas from Eat Beautiful are sure to satisfy: high-fat comfort food, perfectly suited for not only the keto diet, but also primal and GAPS eaters.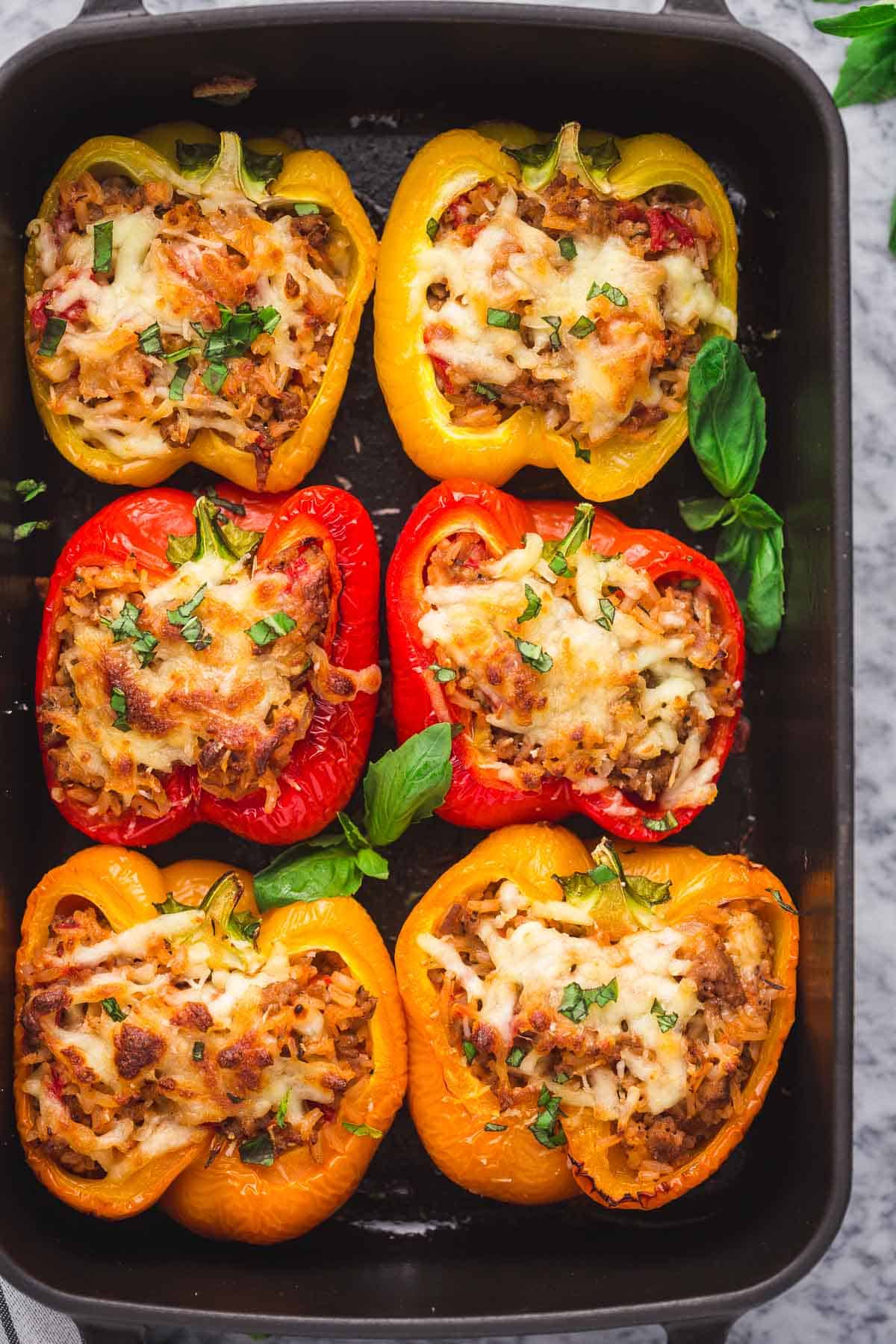 Italian stuffed peppers from Little Sunny Kitchen
Beef & Pork
Classic Three-Cheese Lasagna – Need to feed a crowd? This classic three-cheese Italian lasagna from Gluten-Free Homestead with its intensely flavored sauce, just the right balance of cheeses, chunky beef, sweet Italian sausage, and gluten free pasta, is always a big hit for dinner.
Healthy Stuffed Cabbage Rolls & Peppers – These healthy gluten-free stuffed cabbage rolls and peppers from Healthy Taste of Life are stuffed with a mix of wild rice and basmati rice, seasoned grass fed ground beef, caramelized veggies and baked in the oven until moist and tender. This comforting recipe makes a delicious gluten free, dairy free, clean eating dinner or lunch.
Italian Stuffed Peppers – These colorful Italian stuffed peppers from Little Sunny Kitchen make a great family lunch or dinner. They're healthy, easy, and quick to make. The bell peppers are stuffed with brown rice and ground turkey, Italian seasoning, melty mozzarella, and parmesan cheese.
Keto Chile Relleno Casserole – This keto chile relleno casserole from Eat Beautiful takes just 15 minutes to assemble and 45 minutes to bake. This easy authentic tasting Mexican meal is a crowd pleaser and also perfect for Low Carb, Primal (dairy + Paleo) and the GAPS diet.
Keto Pizza Bake Casserole – Keto, low carb, primal and GAPS Diet – this pizza bake casserole tastes just like pizza (even the cold leftovers)! This high-fat, comfort food dinner from Eat Beautiful is easy to assemble and sure to please. There's no crust to this pizza casserole, so it's just one dish, and you're done! 
Paleo Lasagna – This paleo lasagna from Emma Eats & Explores is made with zucchini instead of pasta. It's just a delicious and the perfect family meal that will definitely become a family favorite.
Paleo Meatloaf Muffins – These paleo meatloaf muffins from Hot Pan Kitchen are an easy and healthy recipe that's also kid friendly. Made with ground beef and sneaking in some spinach, they're a fun and delicious twist on a classic!
Stuffed Green Pepper Casserole – This simple and delicious healthy and gluten-free stuffed green pepper casserole from Food Meanderings, made with instant rice and lean ground beef is smothered in gooey melted cheese (low-fat), is easy to make and requires no stuffing! It can be made ahead and frozen for a quick weeknight meal.
Veggie-Packed Meatloaf  – This homestyle, classic, real food, low-carb, keto veggie-packed meatloaf from Recipes to Nourish is absolutely delicious, succulent and total comfort food. It's jam-packed with vegetables, healthy fats and absolutely no flour.
Easy Cheesy Shepherd's Pie – Love shepherds pie? You've never tasted it like this before! This naturally gluten-free, family-friendly meal from Raia's Recipes is packed with veggies, ground beef, and sharp white cheddar cheese. Easy cheesy shepherds pie is a delicious and flavor-packed dinner everyone will be asking for again and again.

Sweet Potato Casserole from Happy Kitchen
Veggie
Artichoke Feta Breakfast Casserole – This artichoke feta breakfast casserole from Eat Beautiful is the perfect main dish for breakfast, brunch (or even dinner)! It's rich and super satisfying. It's special, and it's beautiful. And the prep time is only 20 minutes!
Cheesy Eggplant Parmesan – Sure to be a crowd pleaser this cheesy eggplant parmesan from Emma Eats & Explores is one for the whole family! Completely refined sugar free and gluten-free but full of all those delicious Italian flavors! Proper comfort food!
Cheesy Spinach & Mushroom Breakfast Casserole – This cheesy spinach and mushroom breakfast casserole from What A Girl Eats is easy to make, gluten free, meatless, and delicious for breakfast, lunch or dinner.
Creamy Vegetable Lasagna – This creamy vegetable lasagna from Recipes to Nourish is pure comfort food. This real food version is packed with beautiful green vegetables, tangy lemon, fresh thyme, and layered with a buttery cream sauce. It's gluten-free with a grain-free option, too!
Crustless Quiche with Kale, Zucchini & Garlic – You'll love this crustless quiche with kale, zucchini and garlic, baked in a large skillet! There's no bottom crust, but the top cooks up crusty, and the center puffs up light and creamy, with cream, eggs, veggies and a couple of great cheeses. This recipe from Eat Beautiful makes a big portion so it's perfect for a crowd or leftovers. It's easy to assemble and super delicious, perfect for every eater and designed especially for primal, keto, low carb and GAPS eaters. 
Lemon-Herb Roasted Red Potatoes – These lemon-herb roasted red potatoes from Heritage River are sure to be a hit with the whole family! Coming together fast with very little prep, allowing you to do more important things while your oven does most the work! A great one pot to table meal for any day of the week.
Mediterranean Crustless Quiche – This Whole30 Mediterranean crustless quiche with brined olives, roasted peppers, (Yukon Gold) potatoes and Za'atar is dairy-free, but oh so creamy and satisfying! It's both paleo and has an easy variation to be GAPS-legal too. You'll love the spices and herbs and the beautiful outcome. (And you'll never miss the crust.) Serve this delicious quiche from Eat Beautiful for brunch or dinner, to family or friends. Lovely for casual holiday food or for everyday.
Rustic Mung Bean Shepherd's Pie – The traditional and budget-friendly Irish recipe with a twist! This meatless rustic mung bean shepherd's pie from Strength & Sunshine is gluten-free, vegan, and allergy-friendly. Whether you're in need of a easy family dinner to serve a crowd of just need some healthy comfort food, this cottage pie is the way to go!
Sweet Potato Casserole – Comforting gluten-free and vegan sweet potato casserole from Happy Kitchen with black beans, kale, buckwheat and roasted garlic sauce. Easy to assemble and perfect to make ahead.

Family Favorite Roast Chicken from Raia's Recipes
Roasts
If you're feeling like something fancy for Sunday night supper or need some meat to slice up for sandwiches, these healthy roasts are delicious options! There are oven roasts here, as well as some slow cooker and Instant Pot ones.
Chicken
Family Favorite Roast Chicken – This family favorite roast chicken is a simple go-to for dinner! It's easy to make fit paleo, GAPS, keto, and Whole30 lifestyles.
Rosemary Citrus Roast Chicken – This roast chicken from Christina's Cucina will be one you make often simply because it's so simple to make! Marinate the chicken overnight and roast the next day with some potatoes and you have a hearty meal for the entire family!
Beef & Pork
Easy Instant Pot Eye of Round Roast – This easy Instant Pot eye of round roast is a great way to serve up a tasty meal with spending hours waiting on your roast. 
Easy Marinated Roast in the Instant Pot or Slow Cooker – This easy marinated roast is a sure winner if you're craving a fancy meal but don't have hours to spend slaving over a stove. Whether you use the slow cooker or the Instant Pot, it's equally delicious!
Herb Crusted Pork Tenderloin – Tender and juicy herb crusted pork tenderloin from Zag Left is coated with a blend of Italian spices and minced garlic, seared to lock in the flavors and quickly roasted in the oven.
Herb Mustard Crusted Roast Beef – This tender, flavorful herb mustard crusted roast beef recipe from Maple & Mango is a delicious option for Sunday dinner, entertaining or a special holiday meal.
Instant Pot Paleo Pot Roast – Looking for that easy Instant Pot paleo pot roast recipe? Savory, fork-tender roast with veggies from Brea Getting Fit is the perfect meal anytime of the day! Roasted radishes replace potatoes for a low-carb roast alternative, without sacrificing flavor.
Slow Cooker Pot Roast – Tender, succulent, seasoned-just-right, this slow cooker pot roast in its own rich gravy from Gluten-Free Homestead is amazing. Not only is this simple to prepare, but you're sure to get two thumbs up from everyone at the table.

Creamy Chicken Thighs from Tessa Domestic Diva
Instant Pot Dinners
Need a healthy meal but don't have a lot of time? Stick it in the Instant Pot! These tasty dinners are family-friendly and don't require a lot of prep. There's beef, chicken, lamb, vegetarian, paleo, keto… just about everything you can think of. But if you're looking for IP roasts or soups, check those categories…
I use the Instant Pot Duo 6 quart 7-in-1 in all my recipes.
Chicken
Arroz con Pollo – This Instant Pot arroz con pollo from Tessa Domestic Diva is a super quick and family friendly meal! Gluten free, and dairy free if you wish, this is a meal using chicken to put on your menus this week!
Creamy Chicken Thighs – Busy moms will love these easy creamy Instant Pot chicken thighs from Tessa Domestic Diva. So creamy and flavorful, you will never believe these boneless chicken thighs have no dairy! With virtually no effort, dinner will be in the pot, and 8 minutes later, chow time!
Lemon Garlic Chicken – Instant Pot lemon garlic chicken from Nourish Plate is one of the most delicious meals that you can make in your instant pot. It's tasty, creamy, and zesty. This recipe is so easy and quick to make as it takes less than 30 minutes to be ready!

Ikea Swedish Meatballs from Cook At Home Mom
Beef, Pork & Lamb
Easy Keto Chile Verde – This easy keto Instant Pot chile verde from Beauty and the Foodie is so simple to make with only a few ingredients and still has a wonderful slow-cooked flavor but in less than an hour in the Instant PotⓇ. Low carb, keto, paleo and Whole30.
Ikea Swedish Meatballs – Skip the trip to Ikea! These homemade Ikea Swedish meatballs from Cook At Home Mom are seriously, the most delicious and super easy Instant Pot Swedish Meatballs recipe ever, served with a perfectly rich and creamy gravy!
Lamb & Butternut Squash Curry – This lamb and butternut squash curry made in the electric pressure cooker (Instant Pot) starts with tender grass-fed lamb, diced butternut squash, creamy coconut milk, and loads of curry flavor. Naturally paleo, whole30, and GAPS for optimal nutrition. From Prepare & Nourish.
Quinoa & Beef Stuffed Chard – It might sound like a complicated mouthful, but this gluten-free and real food quinoa and beef stuffed chard in the Instant Pot is surprisingly easy and amazingly delicious!
Spareribs – These Instant Pot ribs from Prepare & Nourish are so delicious, flavorful, tender and best of all easy to make with only 5 ingredients and 30 minutes cook time! Pair with your favorite roasted vegetable for an easy weeknight dinner!
Stuffed Cabbage Rolls – Instant Pot stuffed cabbage rolls from Enjoying Life Every Day have everything you need in a delicious dinner recipe. It is so much easier and faster to make this in the instant pot. Stuffed cabbage rolls with potatoes and a vegetable sauce and the best part everything is prepared in one pot.
Stuffed Italian Meatballs – Whether you're in the mood for a fancy Italian dinner, or just want an easy comfort-meal, these stuffed Italian meatballs in the Instant Pot or slow cooker will satisfy and delight your tummy with their delicious garlic and herbed flavor and gooey cheesy filling.
Veggie
Cauliflower Tikka Masala – An easy and delicious plant-based recipe is made with cauliflower, chickpeas, and onions cooked in an aromatic spice-filled gravy made from creamy coconut milk. Cooked in the Instant Pot and ready in just 30 minutes, enjoy this vegetarian cauliflower tikka masala from A Forked Spoon with rice, gluten-free naan, and a generous handful of mild cashews.
Vegetable Rice – The best and quick vegetable rice made in Instant Pot. Made with basmati rice, vegetables and spices from Simple Sumptuous Cooking.

Shredded Beef from Neighborhood Food Blog
Slow Cooker Dinners
If you want a dump it and forget it kinda meal (what mom doesn't?) these delicious and healthy gluten-free slow cooker dinners are for you! 
Chicken
BBQ Chicken – Hectic, crazy days mean less time for cooking, so I like to make this fantastic crockpot BBQ chicken! All it takes is a little bit of planning, a few ingredients, a crockpot, and you are well on your way to an EASY pulled chicken dinner. Not to mention, this crockpot barbecue chicken from Joy Filled Eats is a crowd favorite.
Chipotle Chicken Thighs – Easy crockpot chipotle chicken thighs from Any Reason Life are delicious and low carb. Slow cooker chipotle chicken thigh recipe is crispy on top and tender inside. It's the perfect main course for any dinner occasion.
Santa Fe Chicken – This crock pot Santa Fe chicken from She Keeps A Lovely Home is packed with 7 different veggies, spiced with zesty, Tex-Mex flavors and serves at least 6 happy cowboys. It's also gluten-free and dairy-free!
Spaghetti Squash with Chicken Thighs – This keto spaghetti squash with chicken thighs from Any Reason Life is crazy delicious. Crockpot recipes are always so flavorful. Additionally the slow cooker really makes the squash noodles taste like regular pasta.
Beef
Beef Tinga – This slow cooked beef tinga from Elke Living is a healthy dinner that is packed with deep bold flavors and will feed a crowd! Tender slow cooked beef topped with your favorite Mexican toppings!
Citrus Shredded Beef – Slow cooker shredded beef recipe from Peel With Zeal has hints of Caribbean citrus flavors. It is great for use in for tacos, lettuce wraps, nachos or on its own.
Shredded Beef – Slow cooker shredded beef from Neighborhood Food Blog makes the most tender, pull apart beef that's prefect on its own or served with mashed potatoes, in tacos, or with noodles.

Ginger, White Bean & Chicken Soup from Raia's Recipes
Stews & Soups
Even if it's not the dead of winter, a big bowl of soup or stew is always a healthy meal option. Full of nourishing broth and packed with flavor, these delicious healthy gluten-free meals will fill your body and comfort you at the same time.
Chicken & Turkey
Black Bean & Ground Chicken Chili – Made in one pot, this black bean and ground chicken chili from Food by Jonister is great for feeding a big family and makes for the best leftovers as well! This recipe is packed with protein and is gluten free.
Buffalo Chicken Soup – Simply put, this buffalo chicken soup from Eat Beautiful is a family favorite dinner. You'll love how fast and easy it is to add the ingredients to your Instant Pot. And you'll love the happy family and friends that gratefully eat such a satisfying meal. This soup is keto, primal and low carb, definitely gluten-free, and folks from every dietary background will enjoy this special comfort food.
Chicken Tortilla Soup – This chicken tortilla soup from What A Girl Eats is a great way to stretch leftover chicken, easily feeding your family dinner for a second night!
Creamy Chicken Kale Soup – Easy creamy chicken kale soup with shredded chicken or turkey. This protein and veggie packed cream soup from I Heart Umami is Paleo Whole30, healthy, and gluten dairy free!
Crockpot Chicken Tortilla Soup – Crockpot chicken tortilla soup from Pinch of Wellness is packed with shredded chicken, corn, beans and the perfect blend of spices. Perfect easy dinner option to serve a crowd!
Ginger, White Bean & Chicken Soup – Cozy up to the table and enjoy this ginger, white bean and chicken soup! With Instant Pot or stove top instructions, it's a delicious GAPS-friendly and primal soup the whole family will love.
Instant Pot Chicken Stew – This Instant Pot chicken stew from Real Food Deals is comfort food at its best. It's such an easy, healthy recipe for a chilly night.
Low Carb Pumpkin Turkey Chili – Warm up to this hearty, delicious and nutritious low carb pumpkin turkey chili from Prepare & Nourish made in the Instant Pot. Full of flavor and paleo, keto and Whole30 compliant.
White Chicken Chili in the Instant Pot or Slow Cooker – This white chicken chili is easy and full of flavor. With only real-food, gluten-free ingredients, it's a healthy comforting meal that can be made either in the Instant Pot or Slow Cooker.
Three Bean Turkey Chili – This gluten-free turkey chili from The Kitchen Girl is loaded with fresh vegetables, lean ground turkey, and three kinds of beans. It's customizable, easy to make, and perfect for busy weeknights or game day grub. This recipe includes instructions for Instant Pot, slow cooker, or stove!

Dutch Oven Beef Stew from Cook At Home Mom
Beef
Beef & Kale Soup in the Instant Pot – Warming and nutritious, this beef and kale soup in the Instant Pot is a winner in my kitchen! The savory ingredients pared with the sweetness of coconut milk is delicious. And there's a touch of chili powder for an extra kick. It can fit into paleo, GAPS, keto, and Whole30 diets, too!
Dutch Oven Beef Stew – There's no other comfort food quite like beef stew. With tender beef, a rich, savory broth, and plenty of hearty vegetables, this is one of those classic dishes that just leaves you feeling… well, comforted. Make this paleo and Whole30 Dutch oven beef stew from Cook At Home Mom on a cold winter's night or anytime at all!
Easy Vegetable Beef Soup – This 30 minute easy vegetable beef soup from Thrifty Frugal Mom is the perfect quick, healthy meal! It's loaded with vegetables and a comforting recipe that our whole family loves- even the non-veggies lovers.
Gluten-Free Chili – A simple yet flavorful gluten-free chili from Gluten-Free Palate that is ready in no time. This is a one-pot recipe that feeds 6-8 people. Top with your favorite toppings and enjoy!
Healthy Meatball Soup – Meatball soup is an easy, healthy, one-pot recipe made with ground beef, onion, garlic, potatoes, carrots, rice, and chicken broth. My children love this classic hearty Russian soup from Enjoying Life Every Day that you will want to make over and over again.
Instant Pot Vegetable Beef Stew – Made with tender chunks of beef, a variety of veggies and potatoes, plus super-sweet cherry tomatoes, this vegetable beef stew from Healthy Christian Home is cold weather comfort food at it's finest. Cooking it in the Instant Pot makes the flavors meld together fully and the meat fall-apart tender.
Italian Wedding Soup – This Italian wedding soup in the Instant Pot is the perfect marriage of Italian-inspired meatballs and veggie soup. It's delicious no matter what time of year it is, and easily fits low-carb and GAPS Diet lifestyles, with a paleo option, as well.
Middle Eastern White Bean Stew – Fasoolia baida is a hearty Middle Eastern white bean stew from Every Little Crumb in a meaty tomato sauce with Middle Eastern spices.
Pork
Paleo Hot & Sour Soup – Easy and healthy paleo hot and sour soup from I Heart Umami is loaded with vegetables and full of flavor! Low-carb, Whole30, and gluten-free, it's the ultimate healthy one-pot soup recipe!
Sage & Sausage Cauliflower Soup – Comforting and delicious, this sage and sausage cauliflower soup is sure to become a favorite meal for chilly days! It's paleo, keto, and safe for Whole30 and GAPS Diets!
Zuppa Toscana in the Instant Pot – This zuppa toscana in the Instant Pot is a comforting and hearty meal that will make you feel like you're at a fancy restaurant!

Vegan Tuscan White Bean Kale Soup from The Kitchen Girl
Veggie
Broccoli Potato Soup – Healthy broccoli potato soup from This Healthy Kitchen is simple, delicious, and filling. This dish is perfect for feeding a large family, with a generous 8 portion serving.
Creamy Potato Soup – This creamy potato soup from Elke Living isn't your average potato soup. This cozy, hearty soup is packed with veggies, fresh garlic and thyme and is perfect for a crowd!
Easy Slow Cooker Vegan Chili – This easy slow cooker vegetarian chili from Strength & Sunshine is a dump-and-go crockpot meal you can set and forget! This healthy three bean chili is vegan, gluten-free, allergy-free, and full of plant-based protein, veggies, and bold Southwest flavors! A comforting dinner for a crowd or meatless make-ahead and freezer-friendly meal you can meal prep!
One-Pot Vegan Minestrone – This hearty vegan minestrone soup from Happy Kitchen is packed with seasonal vegetables, beans, lentils and whole grains. Perfect comforting vegan winter soup full of flavor and nutrients!
Vegan Butternut Squash Chili – This hearty vegan butternut squash chili from Keeping the Peas is made with beans and veggies simmered in a savory and spicy tomato base. Serve topped with cilantro, and avocado for a creamy finish.
Vegan Curried Lentils – These vegan curried lentils from Keeping the Peas are flavorful, rich in nutrients, and totally satisfying! With crunchy carrots, sweet onions, and bell peppers this lentil dish delivers on texture and taste!
Vegetarian Chili – This vegetarian chili from Parsley, Thyme, and Limoncello is gluten-free and perfect for Meatless Monday meals. It feeds 6 easily and is a family favorite.
Vegan Chili with Beans & Millet – This the best hearty, meaty and satisfying veggie chili from My Pure Plants. It is loaded with whole foods like veggies, legumes, and grains. All the good stuff. Ridiculously easy and healthy, just how we like it.
Vegan Tuscan White Bean Kale Soup – Feed your army with vegan Tuscan white bean kale soup from The Kitchen Girl in 30 minutes! It's made with cannellini beans, everyday vegetables, lots of fresh kale, and pantry seasonings. It's gluten-free, budget-friendly, nutrition-packed comfort food.
Quick & Easy Veggie Lentil Soup – Comforting, warming, nourishing, and cheap. You can't get must better than this quick and easy veggie lentil soup! With only real-food, grain-free ingredients, it's naturally gluten-free and vegetarian.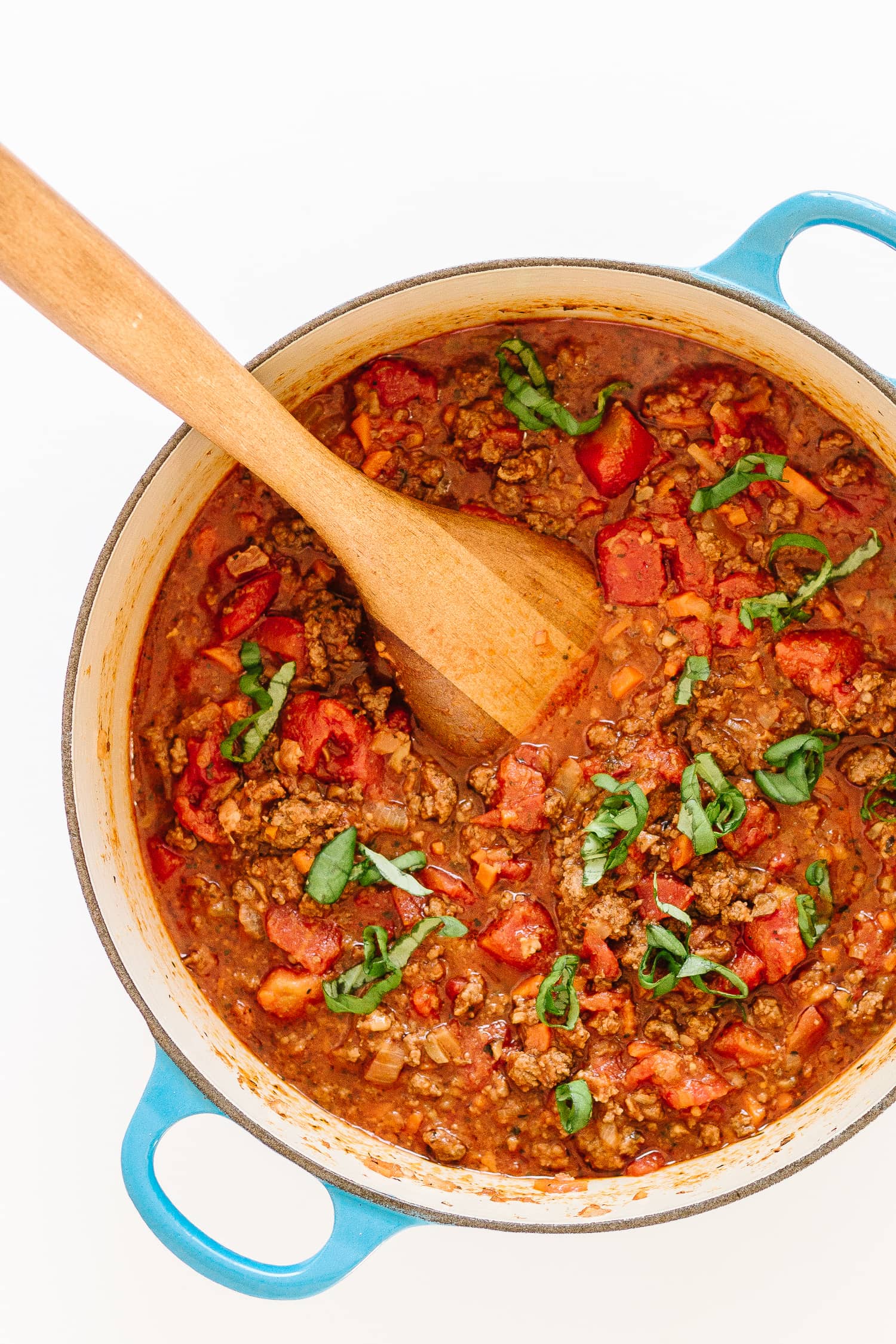 Bolognese Sauce from Maple & Mango
Pasta Dishes
Pasta is one of my kids' favorite meals. Though it's not always the healthiest option, I've rounded up a few delicious gluten-free pasta dishes that are sure to please your large family.
Chicken
Tuscan Chicken Pasta – Looking for a dairy-free and grain-free healthy tuscan chicken pasta recipe? Oh, and one that also only requires one pot (plus a blender)? Look no further because this recipe from Lau's Healthy Life is all of that with tons of richness & flavor packed into every bite!
Beef
Bolognese Sauce – This bolognese sauce from Maple & Mango is the ultimate comfort food! A delicious, hearty meat sauce that can be made ahead, is freezer friendly and a total crowd pleaser. Just serve it over some gluten-free pasta or zoodles!
Ragù with Veggies – Weekday ragù with veggies from My Kitchen Love is packed with tons of vegetables and flavor! It's perfect for busy days and picky-eaters! Make in either the slow cooker or in the Instant Pot for an easy weeknight dinner! Serve on top of gluten-free pasta or polenta.
Seafood
One-Pot Creamy Greens & Tuna Pasta – Easy 30-minute, one-pot pasta meal from Prepare & Nourish is transformed to a gourmet dish with hearty helping of wild canned tuna and delicious asparagus.
Veggie
Easy, One-Pot Mac & Cheese– This easy, gluten-free, one-pot mac 'n cheese is a family favorite at my house, even with the hidden veggies. When my kids see it on the menu, they do the happy dance. Truth be told, I do too.
Greek Pasta with Garlic & Yogurt – This Greek pasta with garlic and yogurt from What A Girl Eats is a quick, easy, and frugal dish. It's simple to make, but loaded with flavor!
Lentil Bolognese – Naturally gluten free and vegan, this lentil bolognese recipe from I Heart Eating is a hearty, healthy lentil recipe that's perfect for topping pasta or just about anything else!

Chicken Fajita Salad from Recipes From A Pantry
Salads & Sandwiches
Need a salad to feed your crowd? Got you covered here. Or how about a sandwich? I've got a couple of those, too!
Salads
Chicken Fajita Salad – Your whole family will absolutely love this easy chicken fajita salad from Recipes From A Pantry! Homemade seasoned juicy chicken fajitas, crisp lettuce, creamy avocado, and a delicious cilantro lime salad dressing makes a great weeknight dinner that comes together in less than 20 minutes. Suitable for Gluten-free and Low Carb diets. 
Chickpea Salad & Lemon Dressing – This chickpea salad & lemon dressing from V for Veggie is perfect for the warm weather! Serve as sides, salad, or stuffed in your favorite flatbread to make delicious sandwiches.
Copy-Cat Chick-fil-A Market Salad – Bursting with fresh greens, fruits, and veggies, this paleo copy-cat Chick-fil-A market salad is a wonderful at-home option for salad lovers who need to stay away from sugars, dairy, and other unnecessary ingredients.
Olivier Salad – This delicious Russian potato salad from Healthy Taste of Life is creamy, tangy, tweaked to be healthier, lighter, safely dairy free and gluten free. This Olivier potato salad is perfect as a side dish, as a burrito filler, for potlucks, large family gatherings, and holidays, as it makes a lot.

Paleo Meatloaf Sliders from Raia's Recipes
Sandwiches
Air Fryer Lentil Sliders – These vegan air fryer lentil sliders from Any Reason Vegans are the perfect plant based recipe for spring BBQs, picnics, and parties. Additionally they are the best homemade veggie burger recipe.
Falafel Balls – Homemade sprouted chickpea falafel balls from Butter for All are great for topping salads, having in fresh pita bread sandwiches, or eaten as a finger food appetizer with hummus and tahini!
Paleo Meatloaf Sliders – Juicy, delicious, and surprisingly easy, these paleo meatloaf sliders are a fun way to switch up a classic meal. Recipe includes instructions for the air fryer or oven!