Hot chocolate lovers, feast your eyes! Here are over 20 delicious and nourishing hot chocolates and cocoas perfect for sipping during a chilly morning, noon, or night! Paleo, primal, keto, vegan, and GAPS diet options included so everyone can enjoy.

Bring on the chilly weather.
It never fails – as soon as the temperature outside drops below 70 my kids beg me to make them hot chocolate every. single. morning. Not that it takes much convincing. I'm all about the hot chocolates when it gets cold out. Not that I think just below 70F is cold, but I do so love to oblige my darlin' little southern babies.
Since winter is right around the corner, and we have been enjoying hot chocolate just about every other day around here, I thought it would be fun to round up a bunch of delicious and nourishing options for y'all. 'Cause everyone needs more ways to drink chocolate, am I right? 
Of course I am.

Fancy toppings.
And also of course, you can't really have a nice mug of steaming hot chocolate without something fun to top it off with. Well, you can, technically, but it's not as fun…
If you need something fancy to top your hot chocolate with, here are few delicious options.
Hot chocolate Add-ins.
For some added protein I love stirring a few teaspoons of Perfect Supplements grass-fed gelatin into my hot cocoas and chocolates. It's 100% gluten-free, non-GMO, and kosher! They also have Hydrolyzed Collagen Peptides and MCT oil, which are both great add-ins for added nutrition. 
To give my hot cocoa a little creaminess and even more nutrition, I love adding in coconut oil (I get mine from Azure Standard) and fresh organic egg yolks. Of course, if you're intolerant to eggs you can definitely skip that option.

Homemade Almond Milk from Food by Jonister
Milk alternatives.
Though you can totally do fresh, raw, whole milk, if you like, I try to keep things dairy-free around here. I usually make my hot chocolates with my Easy Homemade Coconut Milk. If you want to try another dairy-free milk try this Homemade Almond Milk from Food by Jonister (pictured above) or All the Nourishing Things' Homemade Cashew Milk. You can also use store-bought, of course. I like this canned coconut milk from Native Forest, since it doesn't contain any gum. If you don't care about gums, though, Thai Kitchen coconut milk is also good and can be found in most grocery stores.
Chocolate hot chocolates.
Let's start things off with some good ol' fashioned hot cocoas. These are all pretty straight-forward and easy to whip up. You'd never know by the way they taste that they're 100% good for you!
No need to feel guilty enjoying a mugful of this delicious Perfect Homemade Hot Chocolate from Raia's Recipes! It's packed full of good-for-you ingredients like coconut oil and Perfect Supplements grass-fed gelatin and tastes amazing topped with homemade coconut whipped cream or mini cinnamon maple marshmallows.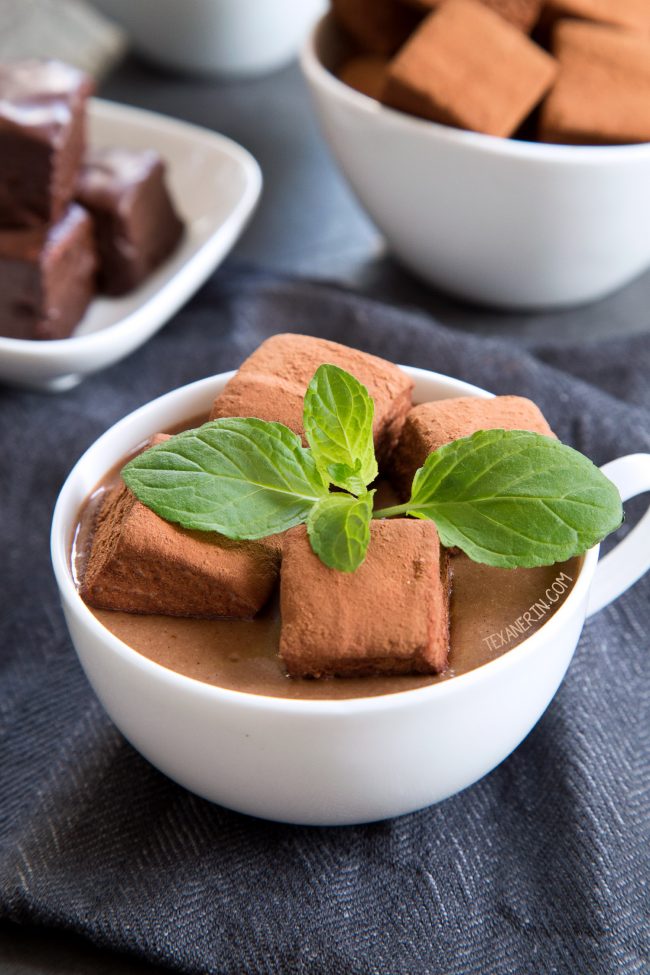 This paleo Vegan Hot Chocolate from Texanerin is ultra rich, creamy and date-sweetened. Honestly tastes just as delicious as a more traditional recipe! Can also be made GAPS and AIP-friendly.

This Nourishing Hot Cocoa with Honey-Sweetened Marshmallows from Prepare & Nourish might as well be called nutrition in a cup. It's packed with nutrient dense ingredients such as mineral-rich coconut sugar, fermented raw cacao powder, and grass-fed collagen for a protein kick. It also makes a great homemade gift with a FREE printable page for gift tags.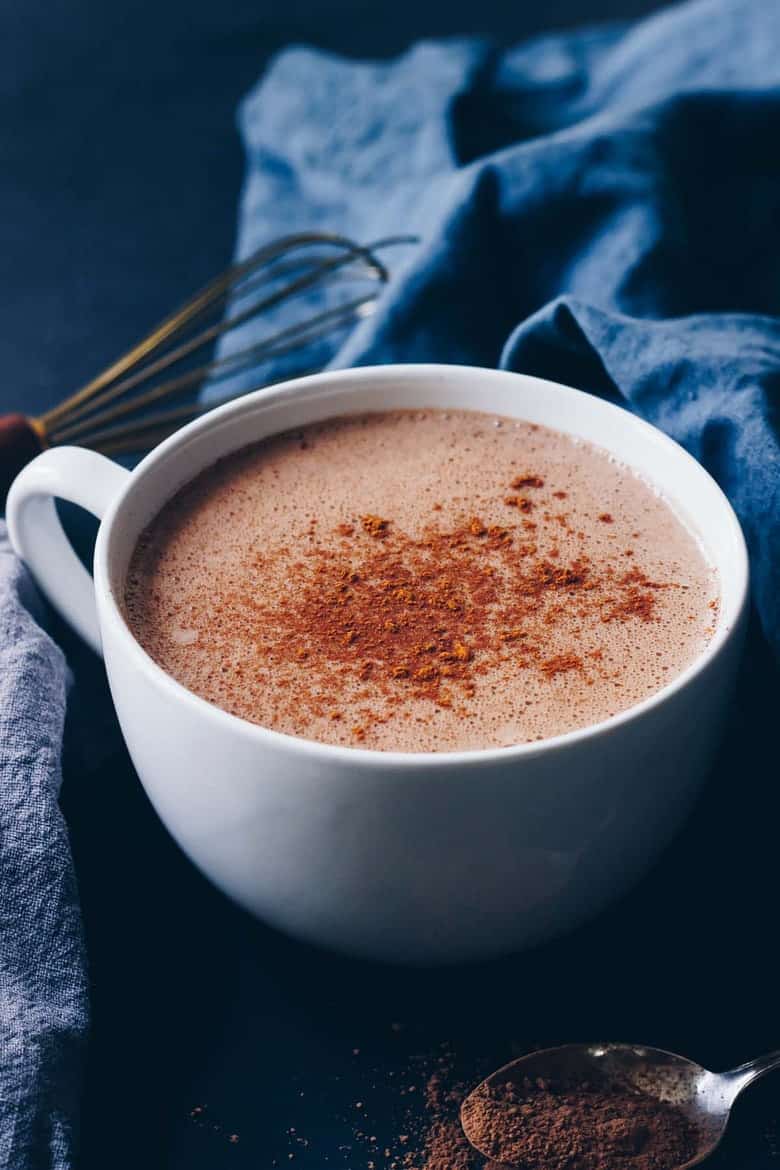 This creamy cup of paleo Superfood Hot Chocolate from the Wicked Spatula is packed with cacao powder and coconut milk. Dairy-free hot chocolate is creamy and rich. Paleo hot cocoa is a treat to warm up to.
Thick creamy Paleo Hot Chocolate from I Heart Umami is inspired by Italian style hot chocolate with dairy-free almond or coconut milk and healthy cacao chocolate. Low carb and easy to make for everyday indulgence!
Spiced hot chocolates.
Every now and again it's fun to change things up and spice up your life! (please note: I'm really not a Spice Girls fan…) These tasty chocolates are full of warming and nourishing spices!
Enjoy a mug of hot chocolate while doing something good for yourself. This hormone balancing Hot Chocolate with Maca and Cinnamon from Calm Eats is delicious, full of antioxidants, boosts energy levels and improves mood.

This Healthy Chai Hot Chocolate from Recipes to Nourish is the perfect warming drink on a cold day. It's hot, creamy, nourishing drink is protein-rich, fragrant, sweet and slightly spicy with hints of cardamom, cinnamon, fennel, ginger and more… 
Spice up your hot cocoa life and nourish yourself at the same time with this delicious and nourishing Golden Milk Hot Cocoa from Raia's Recipes! It's one anti-inflammatory treat you won't want to miss.
A warm, healthy, tasty, comforting and nourishing take on hot chocolate! This Hot Cardamom & Tahini Cocoa from Moon and Spoon and Yum is vegan, gluten-free and full of heart-healthy cacao, delicious cardamom, and protein-rich tahini. The perfect winter beverage!
This delicious and decadent paleo and vegan Mexican Hot Chocolate from What Great Grandma Ate is a healthy but indulgent drink to enjoy over the holidays!
White hot chocolates.
Though I don't consider white chocolate to be technically chocolate, it still does make an amazing cup of hot cocoa! 

This paleo, honey-sweetened Peppermint White Hot Chocolate from Raia's Recipes is a favorite holiday drink in my house. Made with cocoa butter and sweetened with honey, it's nourishing and delicious, and super easy to whip up.
Full of antioxidants and vitamins, this Matcha-Moringa White Hot Cocoa from All the Nourishing Things proves that green stuff is tasty and even kid-friendly. This rich and creamy drink is keto, paleo, and 100% Real Food with just 7 ingredients, so it's mom-approved, too!

Lavender-White Hot Chocolate from Eat Beautiful is a steamer that satisfies — both soothing and exciting with its yum factor. Enjoy the couple of variations for this recipe for either Paleo, Primal, GAPS, Keto or Low Carb.
Fruit & veggie hot chocolates.
If you're not into spice, but still want to change things up a little, these fruity (and veggie) flavored cocoas are perfect! 
This Almond Orange Hot Cocoa from Raia's Recipes is a delicious and nourishing twist on a classic winter drink. Made with almond milk and sweetened with honey, it's a healthy and warming treat.
This healthy Sweet Beet Hot Chocolate from Recipes to Nourish is a fun twist on the traditional warming drink. It's a beautiful, nourishing, protein-rich drink that is paleo friendly, chocolaty and sweet with subtle earthy notes. 
This dairy free Hot Creamsicle Cocoa from Oh Sweet Mercy is made with the goodness of raw cacao butter and baobab powder to help keep you happy and healthy this winter!
This super creamy and delicious Healthy Hot Chocolate with Pumpkin from Moon and Spoon and Yum is like pumpkin pie in a cup! If you're in need of some cozy comfort with a big dash of flavor, look no further! 
Instant Pot hot chocolates.
Of course, I couldn't do a round up of recipes without including a way to use my beloved Instant Pot! So here are a few tasty options for all you fellow IP lovers out there! 
This Instant Pot Hot Cocoa from Raia's Recipes is the perfect mix of sweet and cocoa, and since the IP can hold up to 10 cups, it's easy to make enough for a crowd! I usually only make about 6 cups at a time, but you can easily double the recipe, if you want, or cut it in half if you only want to make enough for your family.
Warm up and bring some hygge into your home with this Keto Instant Pot Chai Hot Chocolate from All the Nourishing Things. This is a paleo, nut-free, and stevia-sweetened recipe. I also give non-keto options, too!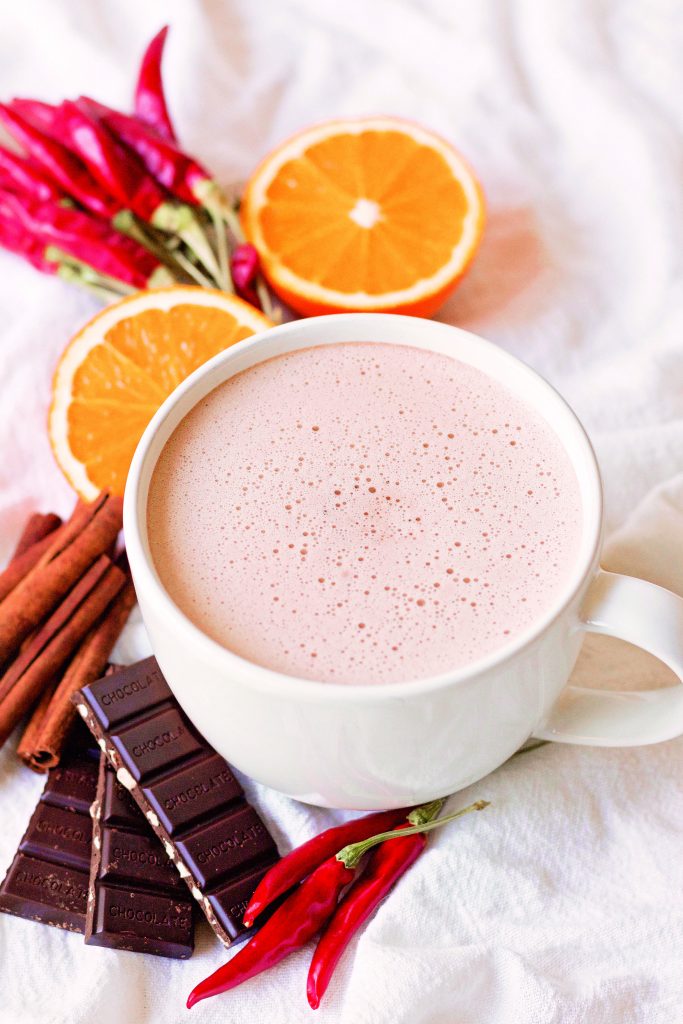 Bold and creamy with the aroma of cinnamon, chiles and citrus, this luxurious Instant Pot Mexican Hot Chocolate from Tessa Domestic Diva and Recipes to Nourish originated in Mayan and Aztec civilizations when they began cultivating the cacao tree.
Don't forget to pin these delicious drinks for later!