Need some healthy options for your sweet tooth? Instead of chowing down on store-bought candies during the holidays, give any one of these Healthy Homemade Candies a try.
Healthy Homemade Candies.
I've never been a huge candy fan. Y'all can keep your M&Ms, Skittles, and Starbursts. Give me the chocolates! And I'm being totally honest when I say that, as much as I enjoyed chocolate candy bars and peanut butter cups pre-celiac, I love homemade versions even more! Plus, they're guilt-free…
That's right, these homemade candies are not only free of refined sugars and artificial sweeteners and flavors, they're actually full of nutrition! So there's no need to compromise your health to satisfy your sweet tooth. 😉
Healthy Candy Bars
These Homemade Paleo Twix Bars from Get Inspired Every Day are easy to make, and everyone goes crazy for them! Just look at that gorgeous candy bar… how could you not go crazy over it?
This delicious and easy-to-make Sweet & Salty Chocolate Bar with fruit & nuts from Raia's Recipes is the perfect healthy treat for chocolate lovers! It's naturally gluten-free, and also dairy and refined sugar free with a paleo option.
If you love Reese's cups, you'll be obsessed with these gluten free and Paleo Reese's Bars from What Great Grandma Ate! They're decadent, delicious, and made with clean ingredients!
Easy and delicious, these paleo
Chocolate Coconut Bars
are a hit wherever they're served! With only a few real-food ingredients, you'll be devouring them in no time.
These easy, Healthy Chocolate Peanut Butter Bars from Wholesome Yum are the best combination of gluten-free shortbread crust, peanut butter and chocolate. 15 minutes prep!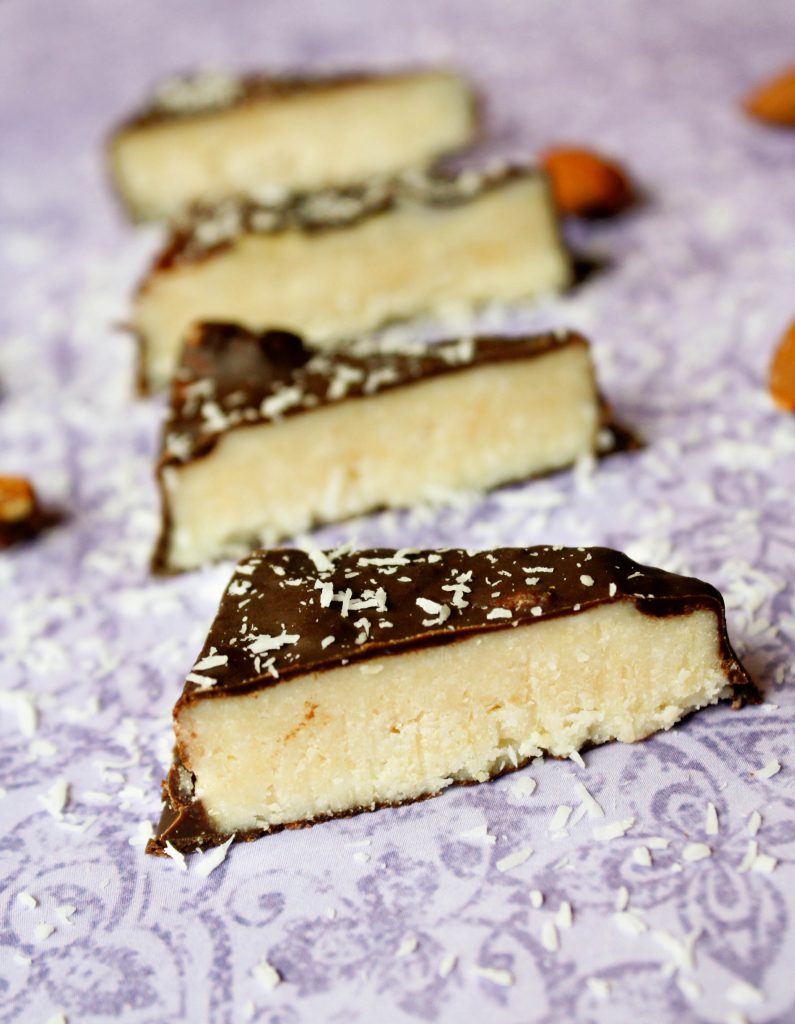 Healthy Fudge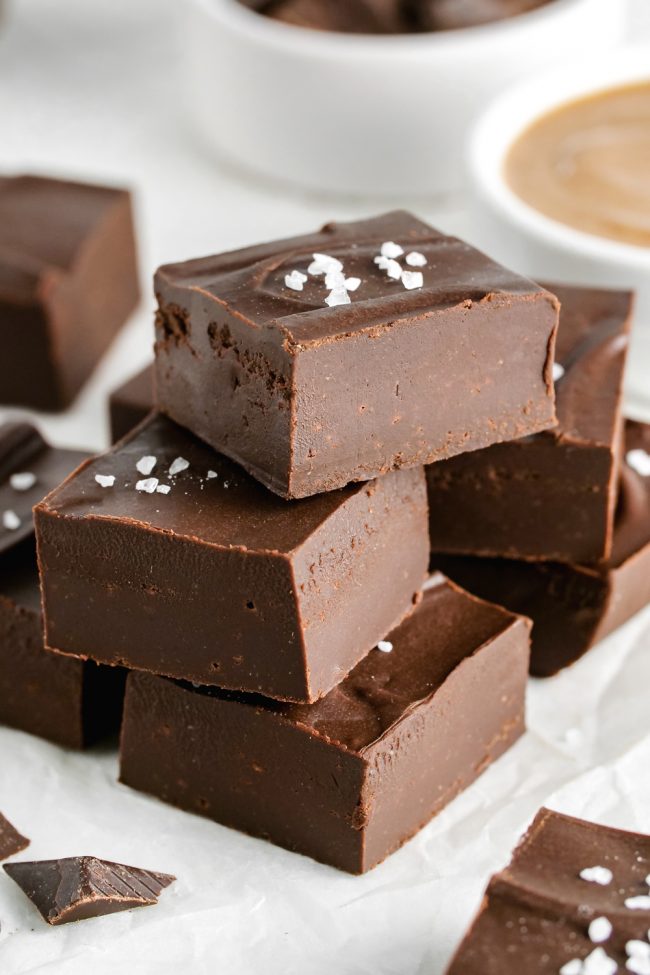 This Vegan & Paleo Fudge from Texanerin is super creamy, easy to make and stays solid at room temperature! It really tastes like traditional fudge and can also be made paleo.
This GAPS-friendly, dairy-free Peanut Butter Chocolate Freezer Fudge is full of healthy fats, and is only sweetened with honey! It's an easy to make, delicious treat the whole family will enjoy.
Raspberry Chocolate Freezer Fudge from Recipes to Nourish is so easy to make! This creamy, delicious, chocolatey perfection is topped with sweet, crunchy freeze-dried raspberries and flaked sea salt. It has a special nourishing protein boost too! 
This easy Keto Fudge recipe from Wholesome Yum needs just 4 ingredients and 10 minutes prep! 
Healthy Truffles
Got 10 minutes? Make these 5-Ingredient Sprouted Seed Truffles with sprouted flax and sesame seeds from All the Nourishing Things! They're vegan and paleo, lightly sweetened with maple syrup, and perfect for school lunches or after-school snacks! High protein, refined sugar-free, and no-bake protein balls!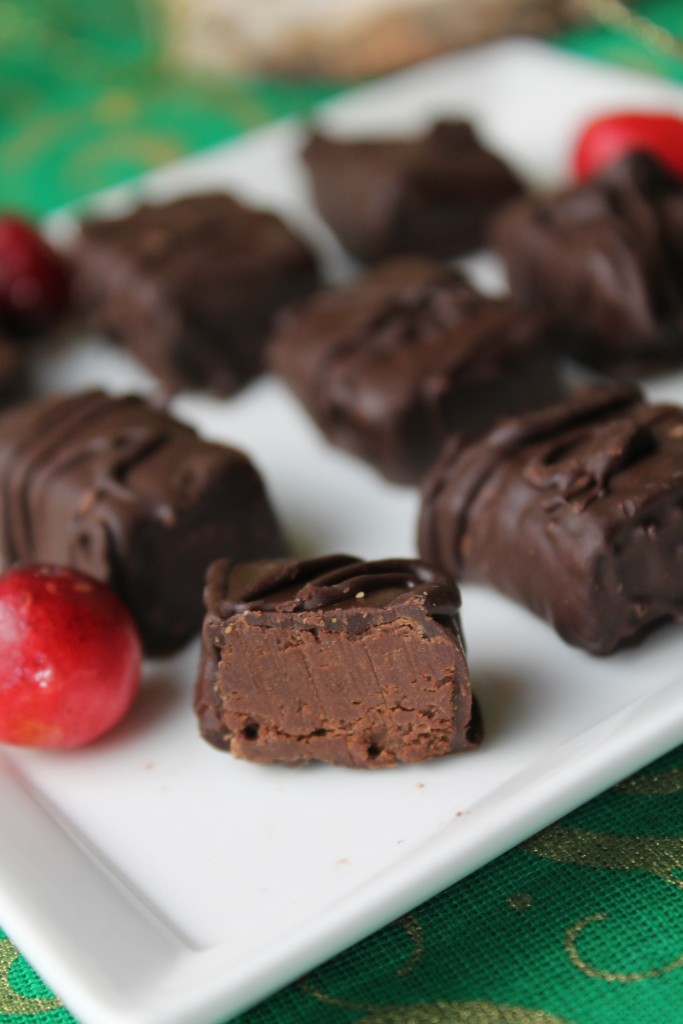 Homemade
Chocolate Mint Truffles
from
Tessa Domestic Diva
are much easier to make than you would think! By making them yourself, you get to control the ingredients and make them a much healthier indulgence!  This recipe is Paleo AND vegan so everyone can enjoy them!
These 5-Ingredient Chocolate Hazelnut Balls from Calm Eats are the perfect treat if you're looking for a healthy alternative to the Ferrero Rocher candy. These are super easy to make and require no baking. They're also paleo, grain free and vegan.
These super easy Nutella Truffles from Wholesome Yum are sugar-free, gluten-free, and low carb chocolate truffles taste like Nutella and have a crunchy hazelnut coating.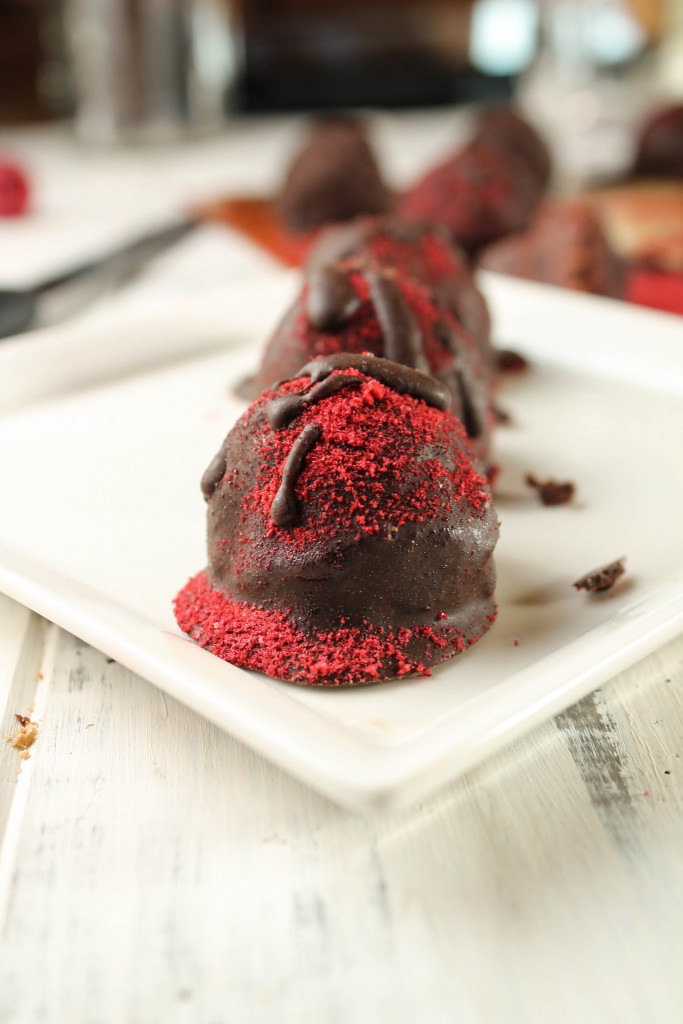 Intensely dark and rich, these paleo and vegan Chocolate Raspberry Truffles from Tessa Domestic Diva will knock your socks off!  And with a tart raspberry essence, you will be in any chocoholics heaven!
These healthier 4 Ingredient Sugar Free Chocolate Caramel Truffles from Recipes to Nourish have the perfect, chewy, heavenly texture. They're so easy to make, naturally sugar free, Paleo, nut free, dairy free and have a vegan option. 
Healthy Candy Cups
Do you love Peanut Butter Cups? You will love these Homemade Paleo Almond Butter Cups from Whole New Mom! These cups with their smooth and delicious filling surrounded by rich chocolate not only taste amazing, but they're low-carb and vegan too!
Misc. Healthy Candies
Learn how to make three different renditions of addicting
Candied Pecans
from
the Rising Spoon
on the stovetop in as little as 10 minutes. This quick & easy recipe uses simple pantry ingredients like maple syrup, warm spices, butter, and vanilla extract so you can fix a batch last-minute for holiday desserts or homemade gifts. That is if you don't eat them all yourself…
One of my family's favorite snacky treats is halva. Traditionally a Middle Eastern dessert, it's usually made up of tahini. But I love this quick and easy Sesame Coconut Halva for a fun twist.
Chocolate Dipped Pomegranate Stuffed Dates from Recipes to Nourish are the most tantalizing little bites! These sticky medjool dates taste just like caramel dipped in delectable chocolate goodness and they have a surprise, tart, juicy bite on the inside that is so good!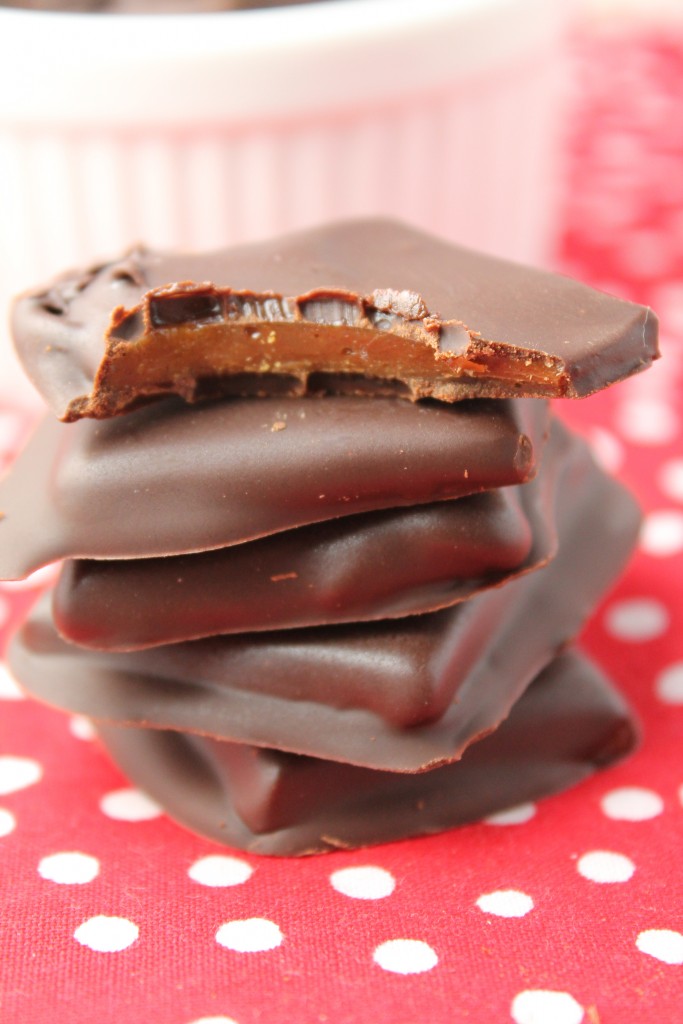 Creative and delicious, these Toffee Caramels from Tessa Domestic Diva are paleo AND vegan!
These vegan and paleo Chocolate Mousse Stuffed Strawberries from What Great Grandma Ate are so adorable to look at, easy to make, and are a healthy, delicious dessert for Valentine's Day or any occasion!
Deep and rich, these
Browned Butter Chocolates
are a superbly delicious substitute for Hershey's or Dove's dark chocolates. They're perfect for primal and/or Full GAPS, too!
Head on over to Delicious Obsessions and see which one is your favorite… 😉